When you open text message conversations on your iPhone, you will likely notice that there is either blue or green shading around the messages that you send.
Initially, this might just seem to be cosmetic, but those colors actually have meaning.
Our guide below will discuss more about the blue vs. green text difference on an iPhone so that you can understand what each color means.
If you have an iPhone and send text messages to multiple people, then you have probably noticed that some text messages are blue, and some text messages are green. This can be confusing, as you probably didn't do anything different to send or receive those messages.
Blue messages are actually iMessages, which are slightly different than standard text messages that you sent and received on previous non-Apple cell phones.
iMessages are affiliated with your Apple ID and can actually be sent simultaneously to iOS devices like your iPhone, iPad, and MacBook. An iMessage can only be sent between iOS devices. Read more about iMessage here.
Green messages are purely SMS (short messaging service) and were sent by people who are not using an iOS device or by people who have turned off iMessage on their iOS device.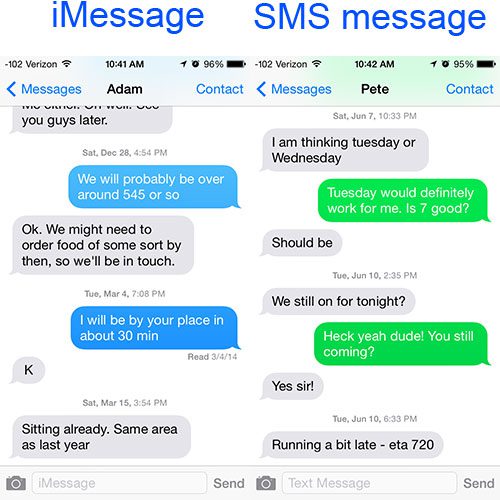 Now that you know the difference between a blue vs. green text on your iPhone, you will be able to know certain things about that conversation, including the types of media you can send in that conversation.
Deal of the Day
Sale
Apple AirPods (2nd Generation) Wireless Ear Buds, Bluetooth Headphones with Lightning Charging Case Included, Over 24 Hours of Battery Life, Effortless Setup for iPhone
HIGH-QUALITY SOUND — Powered by the Apple H1 headphone chip, AirPods (2nd generation) deliver rich, vivid sound.
EFFORTLESS SETUP — After a simple one-tap setup, AirPods are automatically on and always connected. They sense when they're in your ears and pause when you take them out. And sound seamlessly switches between your iPhone, Apple Watch, Mac, iPad, and Apple TV.
Last update on 2023-11-29 / Affiliate links / Images from Amazon Product Advertising API | As an Amazon Associate, I earn from qualifying purchases.
Our article on what does sent as text message mean can give you additional information on why a particular conversation might switch back and forth between blue and green message bubbles.
If you have an iPhone and an iPad that are using the same Apple ID, then you might discover that you don't want to receive iMessages on your iPad. This article will explain how.
There are some advantages to iMessages over text messages, including the ability to sync with multiple devices, as mentioned before. Additionally, if your cellular plan has a fixed number of text messages, then iMessage will not count against that limit. You can also send iMessages to people that have iOS devices but do not have a cellular plan.
If you do not wish to use iMessage, then you can read this article to learn how to turn it off on your iPhone.
How to Enable or Disable iMessage on an iPhone 13 (Guide with Pictures)
The steps in this article were performed on an iPhone 13 in the iOS 15.6.1 operating system but will work on most other versions of iOS as well.
These steps will show you how to turn the iMessage option on or off on your iPhone.
Step 1: Open the Settings menu.
Tap the Settings icon.
Step 2: Open the Messages menu.
Scroll down and select the Messages option.
Step 3: Tap the button next to iMessage.
Turn the iMessage option on or off. The iMessage service is enabled if there is green shading around the button. I have iMessage enabled in the picture above.
Now that you know how to disable or enable iMessage you will be able to use that feature when communicating with other Apple devices, like the Apple iPhone, iPad, MacBook, and iPod Touch.
The next section of our article answers some common questions that people may have about troubleshooting problems with blue and green text messages on an iPhone.
Related Article: Kermit Matthews wrote a great article about hiding alerts for text messages if you have a conversation that sends too many notifications.
Frequently Asked Questions About Blue vs Green Text Messages on an iPhone
Why are there blue and green text messages in a single conversation?
Your iPhone will default to sending iMessages, or the blue messages, as long as your iPhone and the recipient's iPhone both have the iMessage service enabled.
If a conversation that was previously an iMessage conversation starts sending regular text messages, or green messages, then it means that iMessage is not active on at least one device.
Some possible causes for this include:
– iMessage is turned off on your iPhone
– iMessage is turned off on the recipient's iPhone
– The iMessage service is down
– Your iPhone does not have a good Internet connection and can't reach iMessage
– The recipient's iPhone is turned off
– You or the recipient have switched to a non-Apple device, like an Android phone
– The recipient has blocked you
What does it mean if an iPhone user has green text bubbles?
If an iPhone user is sending green text messages, then it's usually because they have turned off iMessage, the iMessage service is down, or they have a bad Internet connection.
For example, if you are in an area with very bad cellular reception, then your phone might only be able to send a regular SMS message.
Is there a way to stop Apple devices from trying to send text messages if iMessage isn't working?
When Apple users try to send an iMessage in the Messages app but aren't able to do so, then the device will default to sending SMS messages instead.
However, if you only want to send iPhone messages with blue bubbles when communicating with iPhone users, then you can change a setting.
Go to Settings > Messages > and turn off the Send as SMS option.
Is there a way to make my messages green while still using Apple's iMessage technology?
Unfortunately, there isn't a way to configure the blue bubble or green bubble when text messaging on your device.
That setting is automatically applied when sending messages to Android devices or if you send messages to an Apple user with iMessage disabled.
If you want to send a green text message to all mobile phones that you converse with, whether it's a non-iOS device or compatible Apple products, then you will need to turn off iMessage to do so.
Continue Reading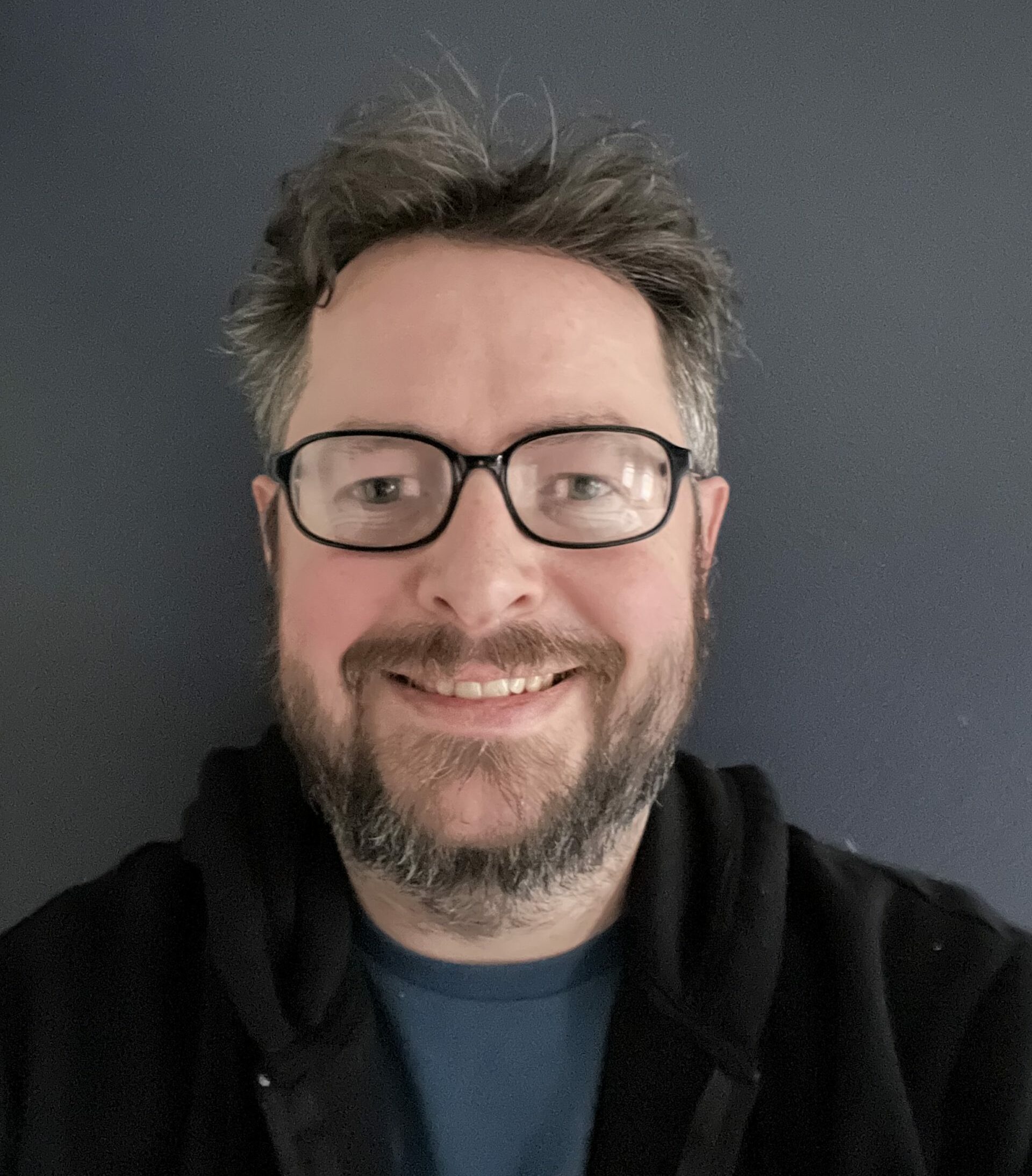 Matthew Burleigh has been writing tech tutorials since 2008. His writing has appeared on dozens of different websites and been read over 50 million times.
After receiving his Bachelor's and Master's degrees in Computer Science he spent several years working in IT management for small businesses. However, he now works full time writing content online and creating websites.
His main writing topics include iPhones, Microsoft Office, Google Apps, Android, and Photoshop, but he has also written about many other tech topics as well.