When your iPhone displays 'Sent as Text Message' for a particular communication, it's indicating that your message has been delivered as a standard SMS text rather than through iMessage. This usually occurs due to a few specific circumstances:
The recipient may not be using an Apple device or may not have iMessage activated.
The recipient's phone might be switched off or running low on battery.
The recipient's device could be disconnected from the Internet.
Either you or the recipient might be experiencing a weak or unstable Internet connection.
The iMessage service might be temporarily unavailable or down.
It's possible that the recipient has blocked you.
To prevent your iPhone from defaulting to SMS texts, navigate to 'Settings > Messages' and disable the 'Send as SMS' option. Remember, sending SMS texts can occur when iMessage is not accessible, and this could be due to any of the reasons listed above.
Our guide continues below with additional information about iMessage sent as text message reasons, as well as some steps you can take to fix it, including pictures of these steps.
You can also check out our sent as text message iPhone video for more on this topic.
How to Disable the Sent as SMS iPhone Setting
Use these steps to stop your iPhone from sending iMessages as text messages.
Step 1: Open the "Settings" app.
Tap the Settings icon.
Step 2: Scroll down and choose the "Messages" option.
Open the Messages menu.
Step 3: Tap the button to the right of "Send as SMS" to turn it off.
Disable the Send as SMS option.
There won't be any green shading around the button when this option is turned off. I have it turned off in the picture above.
Last update on 2023-12-01 / Affiliate links / Images from Amazon Product Advertising API | As an Amazon Associate, I earn from qualifying purchases.
The disabling sent as text message steps above were performed on an iPhone 11 in iOs 13.4.1. These steps will also work on other iPhone models using iOS 13, as well as most other recent versions of iOS.
The iMessage feature on your iPhone provides some additional messaging features that aren't available with traditional SMS text messaging. This includes things like Apple Pay, animojis, and some other interesting options found in the Messages app.
You might be asking yourself what does send as a text message mean if you see that prompt on a message when iMessage wasn't able to send the text regularly and wants to try it as a regular SMS instead.
You can tell if you have sent an iMessage because the shading around the message will be blue. Traditional SMS text messages have green shading around them.
But even if you and your recipient have iMessage enabled on your Apple devices, it's possible that a message will be sent as an SMS. This can happen if iMessage is down, or if there is a network issue on the part of the sender.
In fact, it's pretty common for people to ask "what does sent as a text message mean" when they see an unexpected green message bubble in a conversation where all the rest of the messages were blue.
Additionally, if the message was intended to be sent as an iMessage but was unable to do so, then there will be a little indication under the green message bubble stating that it was sent as an SMS instead.
In many cases this switch isn't problematic, but you may prefer that you only send intended iMessages as iMessages, and that the iPhone not fall back to the SMS option.
Following the steps above will prevent your iPhone from sending your iMessage as a text message. Note that this may result in the message not being sent at all.
If you are wondering "sent as text message – did it go through?" then you can browse through our list of related questions below and see if you can find the answer to your query there.
Frequently Asked Questions
Am I blocked if an iMessage sent as a text message?
Not necessarily. As mentioned previously, an iMessage sent as a text message is usually indicative of a network issue. If your iMessage doesn't have a "Delivered" message underneath it, but previous ones in the conversation did, then this could be an indication that you have been blocked.
Why does my iPhone text say "sent as text message?"
Any message sent to a non-Apple user will be sent as a text message. The iMessaging service is only available for Apple devices. But if the iMessage couldn't be sent, or if the recipient doesn't have iMessage enabled, then your iPhone will send it as a text message.
How do I turn iMessage on or off?
You can enable or disable iMessage by going to Settings > Messages and tapping the button next to iMessage at the top of the screen.
What does "sent as text message" mean?
While you are probably used to seeing blue bubbles on the messages that you send to other people with iPhones, occasionally that bubble will be green instead. Below a green bubble in an iMessage conversation, there will probably be a line that tells you it was sent as a text message.
The "sent as text message" meaning is that, for whatever reason, your iPhone couldn't send the message as an iMessage.
If it says "sent as text message" did they get it?
Typically, yes, this indicates that the recipient received the message. Your iPhone should only display that message when the original iMessage failed, and the device was able to successfully complete the alternate transmission of the text message.
However, I have personally experienced situations where the person that I was texting did not get that message. Usually, it's something that occurs when I have poor data connectivity, or when I've gotten off a plane and switched time zones. If the text is really important and you haven't received a response, it might be a good idea to send the message again.
Why are my texts sending as SMS?
If all of your texts are being sent as SMS, even the ones that are going to people that you know have Apple devices, then the iMessage setting could be turned off. You can check this by going to Settings > Messages > and looking if the iMessage option is enabled.
If this is happening even with the iMessage setting turned on and you are still wondering "why are my iMessages sending as texts" then that can be a little tougher to troubleshoot.
If you have just switched iPhones, then you may need to go back to the old device and turn the iMessage setting off. It's also possible that the iMessage service just isn't working properly, or that you have a bad Internet connection.
Why are my iMessages sending as texts to one person?
If messages are being sent as text messages, then it is most likely that the recipient is using a non-Apple device, like an Android.
If you know that they are using an iPhone, iPad, or iPod Touch, then they may not have iMessage enabled.
If they have iMessage turned on and you can send iMessages to other people, then it's a problem with their device. They can try turning iMessage on and off, restarting their iPhone, and making sure that their phone number has a blue check next to it when they go to Settings > Messages > Send & Receive.
What does !! mean on iPhone text?
If you see two exclamation points at the corner of a text message, that means that the recipient has added a reaction. You can do this by tapping and holding on the message, then selecting from the list of available reactions. These include:
– a heart
– a thumbs up
– a thumbs down
– HaHa
– two exclamation points
– a question mark
How can you identify an SMS message on an iPhone?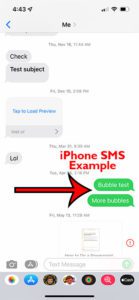 When iPhone users send messages from the Message app that wind up being an SMS (short messaging service) message, then the bubble around the message will be green. It will also say sent as text message underneath the message.
An example of an iPhone SMS message is shown to the right.
As we mentioned above, this might happen for a few reasons –
1. The recipient is using an Android phone.
2. An iMessage recipient might not have a good Internet connection.
3. An iPhone user might have the iMessage service turned off.
If nothing seems to be wrong and you are still seeing a green text bubble, then your mobile communication strength might not be good. Check your Internet connectivity and cellular service to confirm that they are in good working order, and that you haven';t turned off cellular data or used your full monthly data allotment.
What does a blue iMessage look like on an iPhone?
You won't get an iMessage delivery notification or anything when it goes through, but you can identify successful iMessages because they are blue messages instead of green.
An example of an iMessage is shown to the right.
Note that only the message you send will be a blue message. The other iMessage recipient messages will still be the standard gray color.
There is not a dedicated iMessage app. Any sent message that goes to other Apple users or another iOS device will have the blue bubble is the iMessage option is enabled for that device.
Can I send all of my messages as text messages on an iPhone?
Yes, it is possible to disable the iMessage service completely on your device. You can do this with the following steps.
1. Open the Settings app.
2. Select Messages.
3. Toggle the iMessage option off.
What settings do I need if I want my iPhone to only send messages as SMS texts if the iMessage service is not available?
if you want to send iMessages when possible, and only want your iPhone to send an SMS as a fallback, then you will need to:
1. Open the Settings app.
2. Select Messages.
3. Enable the iMessage option.
4. Turn on the Send as SMS option.
Note that most cellular plans give you an unlimited number of SMS messages, but any MMS (multimedia messaging service) messages that you send, such as pictures or videos, will use data from your data plan if you are connected to a cellular network.
The next section of this article provides a quick overview of the steps that you need ot take if you want to prevent your iPhone from using the SMS fallback when you were attempting to send an iMessage.
Quick Summary – How to Prevent the Sent as Text Message iPhone Notification
Choose Messages.
Turn off Send as SMS.
Our guide continues below with additional information on the iMessage sent as text message iPhone indicator that you might see in a message thread on your device.
How to Change Your iPhone Messages from iMessages to Text Messages Manually
If you would like to prevent your iPhone from sending iMessages as text messages when the iMessage service is unavailable, then you will need to go to Settings > Messages > and disable the Send as SMS option.
Then when you have an iMessage that can't send because the iMessage service is either down or unavailable, then you can tap and hold on to the message and select the Send as Text message option.
To summarize, you can manually send an iMessage as a text message with these steps:
Tap Settings.
Select Messages.
Disable Send as SMS.
Tap and hold on an iMessage that wouldn't send.
Choose the Send as text Message option.
Our article continues below with more information about sending iMessages and text messages on an iPhone.
More Information on the iMessage Sent as Text Message Meaning
One other option that you might want to consider changing on the Messages menu involves something called "read receipts."
If you have the option enabled to send read receipts, then when other people send text messages to you they will see notifications that say read or delivered underneath the message, letting them know both when you receive text messages and when you look at them.
You will find this option if you go to Settings > Messages > and disable the Send Read Receipts option.
I have it turned off in the picture above, meaning that my contacts won't be able to tell when I have read a text message that they sent to me.
Note that there is also an SMS/MMS section on this settings menu where you can adjust various options for regular text messages.
For example, if you have that MMS messaging option turned off, then you won't be able to send pictures or videos to people that aren't using iMessage.
Video About Turning Off the Sent as SMS feature on an iPhone
Conclusion
The iPhone can send two different kinds of text messages.
Messages with a green bubble are regular text messages, while messages with a blue bubble are iMessages.
Typically an iMessage is sent to someone using an Apple device, and text messages (or SMS messages) are sent to someone using a different kind of device.
Hopefully, our guide above has provided you with more information about iMessage sent as text messages, as well as some of the reasons this might occur and some actions you can take to resolve it.
Continue Reading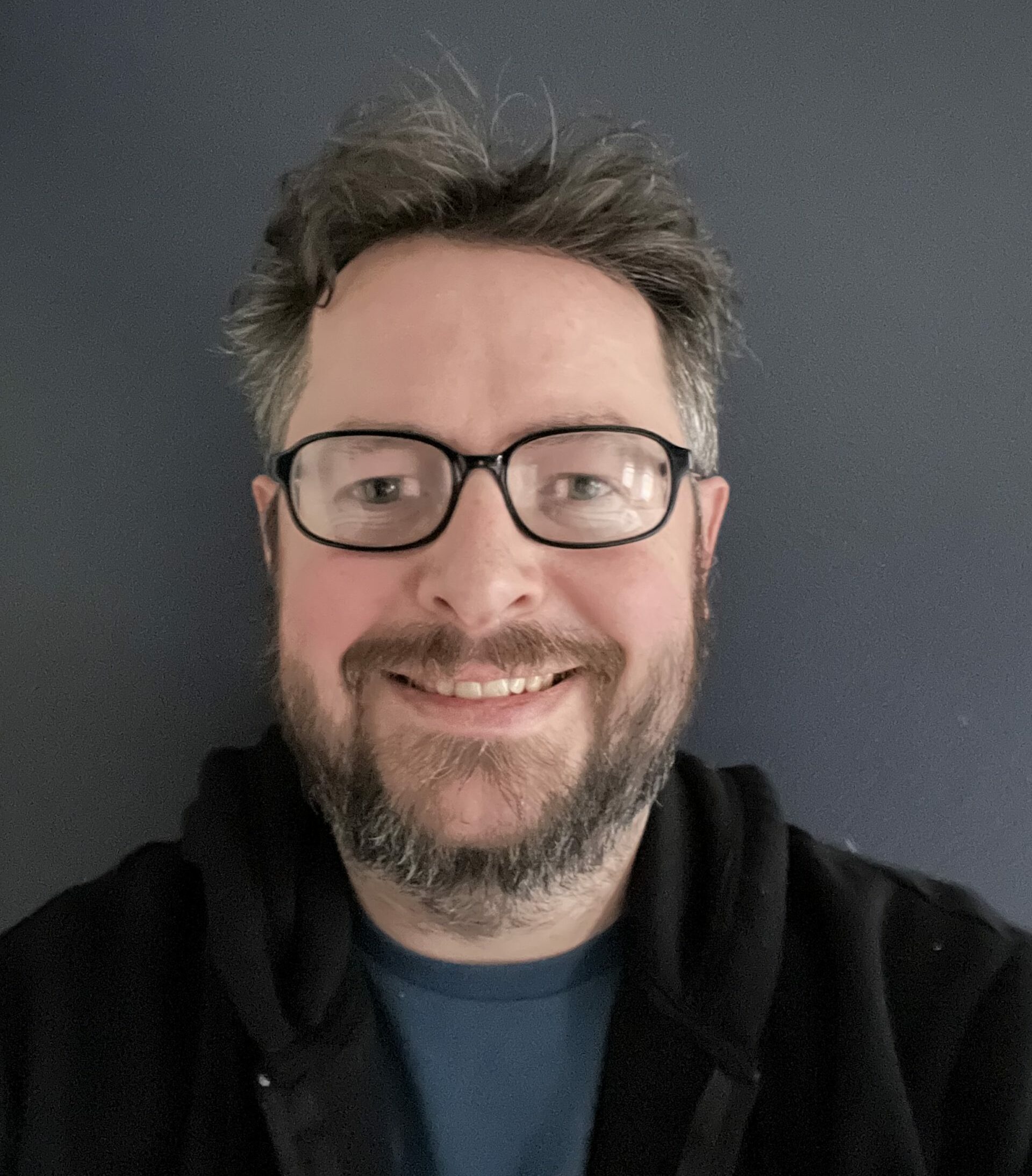 Matthew Burleigh has been writing tech tutorials since 2008. His writing has appeared on dozens of different websites and been read over 50 million times.
After receiving his Bachelor's and Master's degrees in Computer Science he spent several years working in IT management for small businesses. However, he now works full time writing content online and creating websites.
His main writing topics include iPhones, Microsoft Office, Google Apps, Android, and Photoshop, but he has also written about many other tech topics as well.