Your Apple Watch provides you with a lot of helpful ways to receive notifications and control some of the things that happen on your iPhone.
Many of the interactions between the two devices can occur automatically, including a set of controls that appear on the watch when you open audio apps like Spotify.
Particularly you may notice that the Spotify app is launching automatically on the Apple Watch when you start listening to music on your phone.
While this can be helpful, you may prefer not to launch the Spotify Watch app and instead prefer to open the app yourself, or simply control your music from your phone.
Our guide below is going to show you how to stop your audio apps from starting automatically when you start listening to music on your iPhone.
Last update on 2023-12-04 / Affiliate links / Images from Amazon Product Advertising API | As an Amazon Associate, I earn from qualifying purchases.
How to Prevent Spotify from Opening on Your Apple Watch Automatically
The steps in this article were performed on an iPhone 11 in iOS 13.6.1. The Watch being affected is an Apple Watch 2 using the 6.2.8 version of WatchOS.
Step 1: Open the Watch app on your iPhone.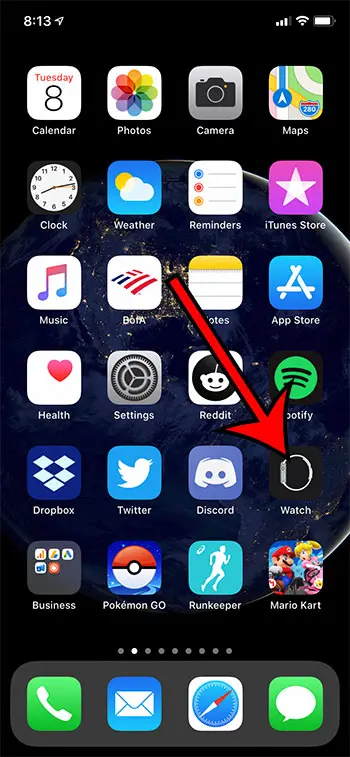 Step 2: Choose the My Watch tab at the the bottom of the screen.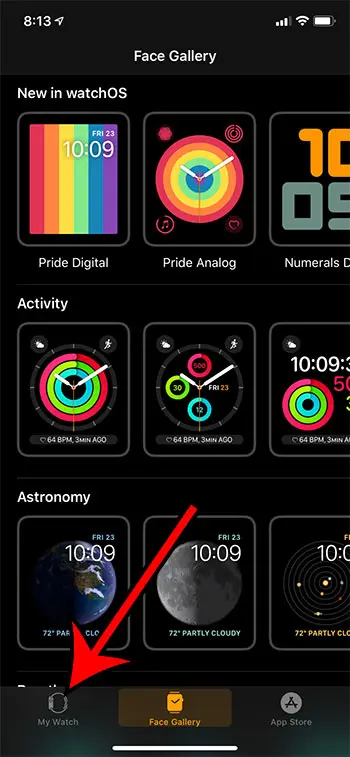 Step 3: Select the General option.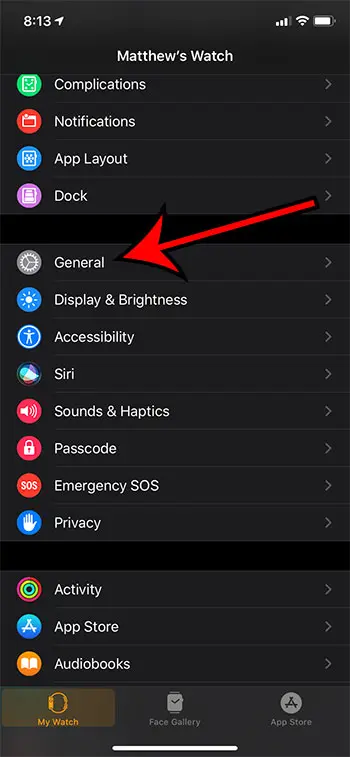 Step 4: Scroll down and choose Wake Screen.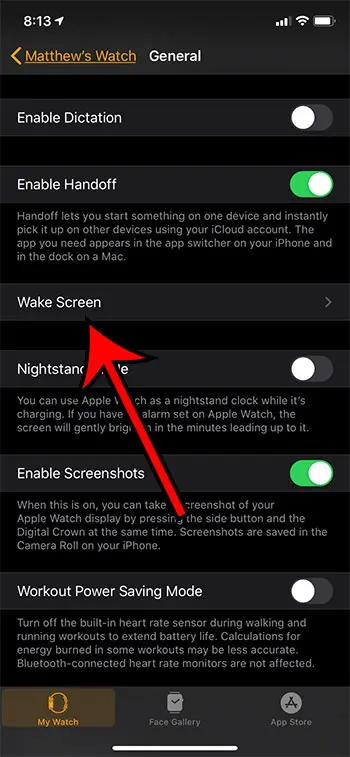 Step 5: Tap the button to the right of Auto-launch Audio Apps to turn it off.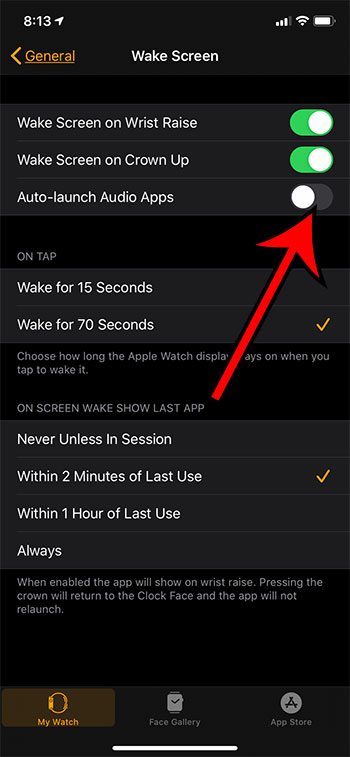 You will know that the setting is turned off when there is no green shading around the button. I have it turned off in the image above.
Now when you start using the Spotify app on your iPhone it will no longer cause the Spotify app to open automatically on your watch.
Now that you know how to stop Spotify from opening automatically on an Apple Watch, you can remove the frustration of constantly needing to exit the app.
Find out how to turn off the Breathe reminders on your Apple Watch if you aren't using them and don't want them to appear periodically.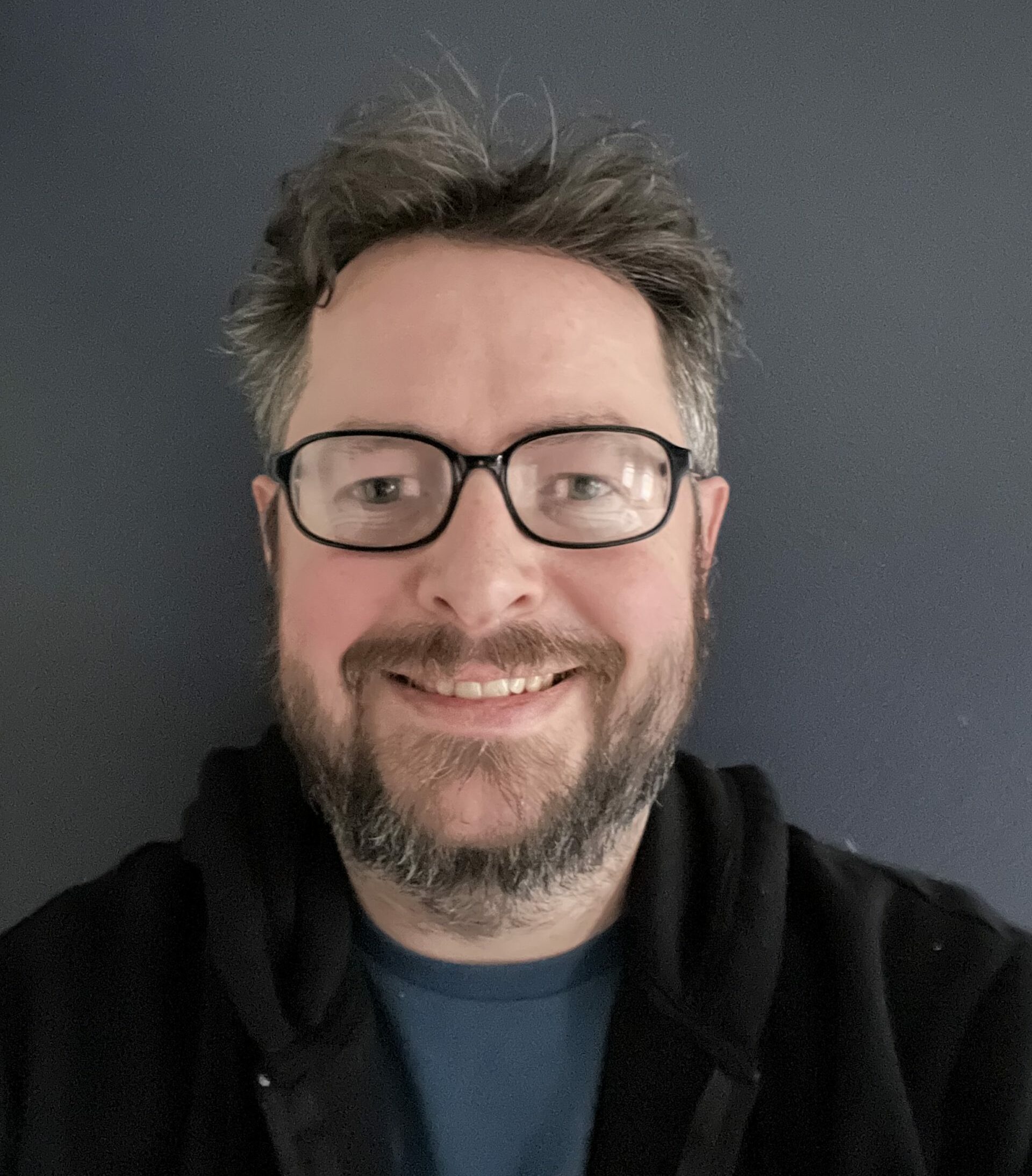 Matthew Burleigh has been writing tech tutorials since 2008. His writing has appeared on dozens of different websites and been read over 50 million times.
After receiving his Bachelor's and Master's degrees in Computer Science he spent several years working in IT management for small businesses. However, he now works full time writing content online and creating websites.
His main writing topics include iPhones, Microsoft Office, Google Apps, Android, and Photoshop, but he has also written about many other tech topics as well.