One of the nice things about a Google account is that all of the different apps and services that you use all incorporate the Google Account log in.
This means that you can use things like Google Maps and Google Docs once you have signed into something else, like Gmail.
Our tutorial provides options for how to complete a Google Drive sign in from some different locations.
How to Sign Into Google Drive
Navigate to https://drive.google.com.
Click Sign In at the upper-right corner.
Enter your Google account email address and click Next.
Enter your password and click Next.
Complete any two factor authentication that you have set up.
Our guide continues below with additional information and options for a Google Drive Sign In, including pictures of these steps.
When you create a Google Account, such as when you sign up for Gmail, you gain access to a number of different features and applications.
One of these features is Google Drive, which provides you with some free cloud storage that you can use to make some of your files accessible from anywhere with an Internet connection.
You can upload files to Google Drive from your computer, and files that you create in Google Docs, Google Sheets, and Google Slides are stored there as well.
You can even perform other actions from Google Drive, such as sharing your Docs, Sheets, or Slides files.
Signing into Google Drive is possible from a number of different locations.
For example, if you click the Apps icon at the top-right corner of your Gmail inbox, you should see a Drive icon. Clicking that will take you to your Google Drive.
If you don't see a Drive icon there, select the More option, then choose the Drive option from there.
Once you are in Google Drive you can do things like a Google Docs upload if you need to add pictures or other files to your documents.
It's also possible to navigate directly to Google Drive by going to this address – https://drive.google.com.
If you're already signed into your Google Account then you will see some navigational tabs at the left side of the window, as well as a listing of your Google Drive files.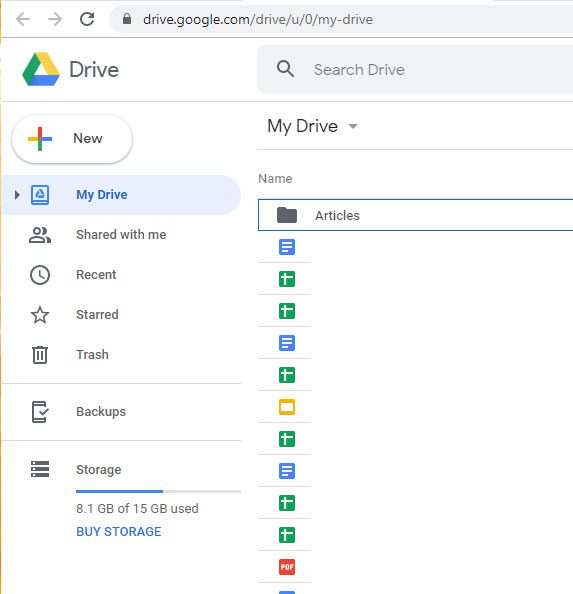 If you aren't signed into Google Drive then you will see a screen where you need to choose to go to Google Drive.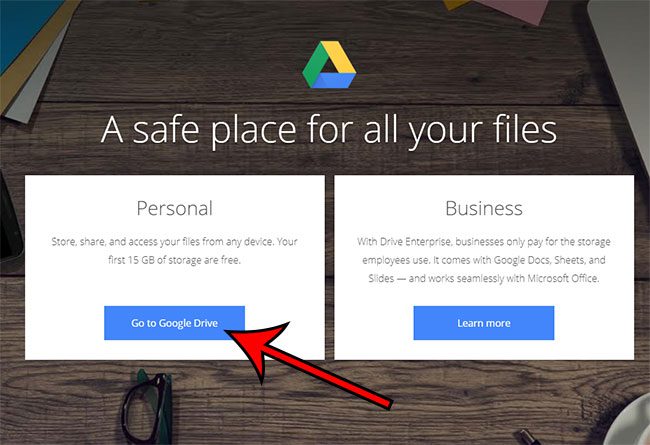 Then you will need to enter your Google Account email address and password.
If you're already signed into a different Google Account in your Web browser, then you can click the account icon at the top-right corner of the Google Drive window, then either choose a different Google Account from the drop-down menu or add a new Google Account.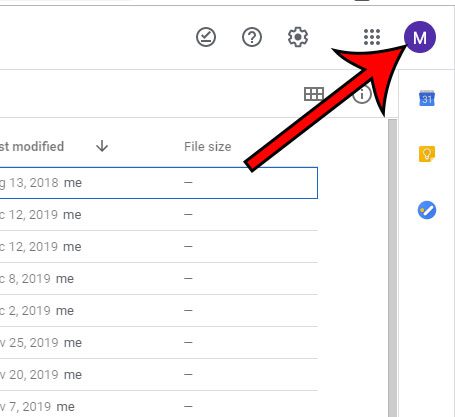 One additional option that you could consider if you have multiple Google users on the same computer is to sign into one Google Account in one Web browser, such as Google Chrome, then sign into a different Google Account on another Web browser, such as Mozilla's Firefox or Microsoft Edge.
Now that you know how to use the Google Drive sign in option, you will be able to access your files in cloud storage a little more easily.
Find out how to delete a file in Google Drive if you are running out of storage space and need to free some up.
More Information on the Google Drive Login Process
Once you login Google Drive will let you view and edit any of the files that are in your account. Plus, since the Google.Drive sign in is the same information that you use to open your Gmail inbox, or access apps like Google Docs, Sheets, or Slides, you only need to remember that one set of credentials for your Google Account instead of a separate G Drive login username and password.
Your GoogleDrive login can use two factor authentication if you want to add some extra security to the account. you can do this by going to your https://myaccount.google.com site, then choosing the Security tab and selecting the 2-step Verification option.
There are a lot of other security things on this menu that you might want to check out, too, like apps that have access to your account, your recovery information, and more.
You can read our tutorial on how to view saved passwords in Google Chrome if you need to use a password that you saved in Chrome on another browser or device.
Frequently Asked Questions About Google Drive Sign In
How do I sign in to Google Drive on my iPhone?
The Google Drive application is compatible with mobile devices, so you can still go to https://drive.google.com and sign into your account that way.
The interface is a little different on the mobile Web browser version of Drive, but you can perform most of the same tasks.
Another option would be to download the Google Drive app from the iPhone's App Store. If you open the App Store, select the Search tab, then search for "google drive' you will be able to download the app for free.
How do I sign out of Google Drive?
If you click your profile icon at the top-right corner of the window on the Google drive Home screen you will see a button at the bottom of the dropdown menu to sign out of your account, or to sign out of all accounts if you have more than one Google Account.
How can I switch Google Drive accounts?
If you have multiple Google accounts and want to sign in with a different one, then you can do so by clicking your profile icon at the upper-right corner of the window.
There you will be able to either select a different account to which you have already signed in, or you can click the Add another account option to enter your email address and password for the other Google Drive account.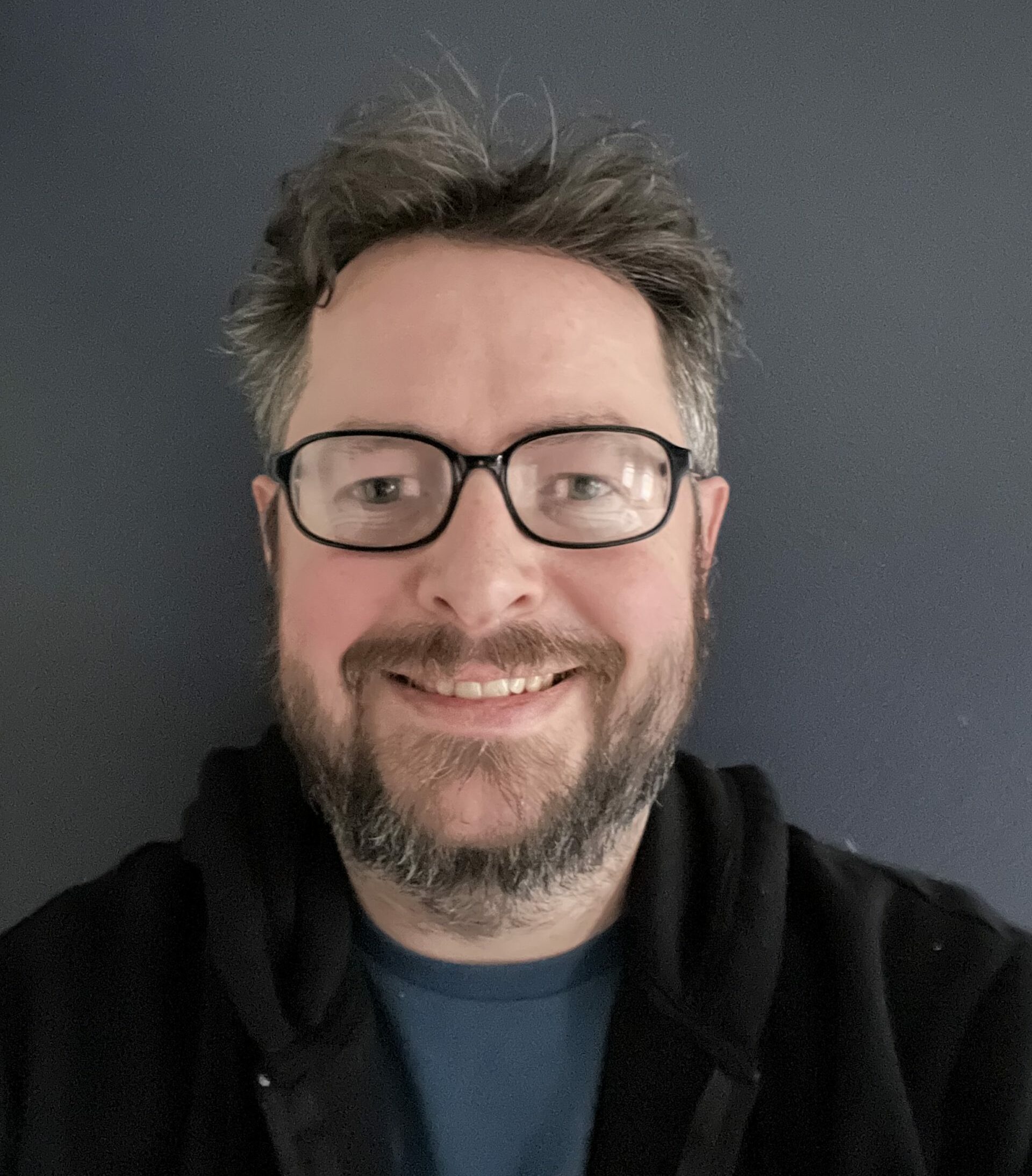 Matthew Burleigh has been writing tech tutorials since 2008. His writing has appeared on dozens of different websites and been read over 50 million times.
After receiving his Bachelor's and Master's degrees in Computer Science he spent several years working in IT management for small businesses. However, he now works full time writing content online and creating websites.
His main writing topics include iPhones, Microsoft Office, Google Apps, Android, and Photoshop, but he has also written about many other tech topics as well.