Accidentally deleted some precious photos from your iPhone and now you're in panic mode, wondering if you'll ever see them again? Fear not! iOS 17 comes with nifty features that allow you to recover those cherished memories. All it takes is a few taps, and you'll have your photos back where they belong.
After completing the action, the deleted photos will reappear in your iPhone's photo album, just as they were before you deleted them. This is thanks to the built-in recovery feature in iOS 17 that keeps a copy of your deleted photos for a certain period before permanently removing them from your device.
You cna also check out this video about how to recover deleted photos on iPhone for more on this topic.
Introduction
Have you ever experienced that heart-dropping moment when you accidentally delete a photo on your iPhone? Maybe it was a snap from a family reunion, a shot of a beautiful sunset, or even a picture of a beloved pet. Losing photos can be upsetting, to say the least. But the good news is, with the latest iOS 17 update, recovering those lost memories is easier than ever.
iOS 17 comes with advanced data recovery features that ensure that your deleted photos aren't gone forever. This topic is crucial as it provides a safety net for those moments of accidental deletion or mind changes. Whether you're a parent who's deleted their child's first steps, a student who's lost their project photos, or someone who's simply deleted a photo by mistake, this article is for you. Understanding how to recover deleted photos is a skill that every iPhone user should have under their belt. So, let's dive into the step-by-step tutorial on how to get those treasured photos back.
Related: Hide Photos on iPhone 13: How-to Guide
How to Recover Deleted Photos in iOS 17
The following steps will guide you through the process of recovering deleted photos on your iPhone running iOS 17.
Step 1: Open the Photos app
Go to your iPhone's home screen and tap on the Photos app to open it.
Opening the Photos app is your gateway to accessing all your photos, including the ones you've accidentally deleted. Once you're in, you'll see various albums and the option to view your recently deleted items.
Step 2: Tap on the 'Albums' tab
At the bottom of the screen, you'll find the 'Albums' tab. Go ahead and tap on it.
The 'Albums' tab organizes your photos into different categories, making it easier for you to find what you're looking for. This is where your journey to photo recovery begins.
Step 3: Scroll down to the 'Recently Deleted' album
In the 'Albums' section, scroll down until you find the 'Recently Deleted' album. Tap to open it.
The 'Recently Deleted' album is a special folder where iOS 17 keeps all your deleted photos for 30 days before they are permanently erased. It's your last chance saloon for photo recovery.
Step 4: Select the photos you wish to recover
Once in the 'Recently Deleted' album, you'll see all the photos you've deleted within the past 30 days. Tap on 'Select' in the top-right corner, then tap on each photo you want to recover.
Selecting your photos is a way of telling your iPhone that these are the memories you want to keep. Be sure to double-check as this step is crucial.
Step 5: Tap on 'Recover'
After selecting your photos, tap on the 'Recover' option, which can be found at the bottom-right of the screen. Confirm your action if prompted.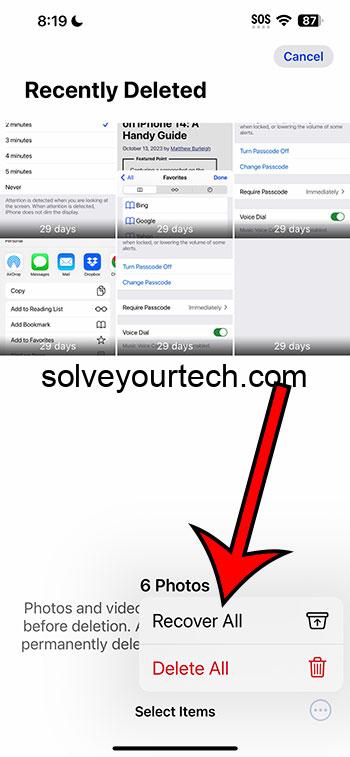 Tapping on 'Recover' is like hitting the undo button. Your selected photos will be restored to your main photo album, safe and sound.
Pros
| Benefit | Explanation |
| --- | --- |
| User-friendly | iOS 17 makes it incredibly simple for any user to recover their deleted photos without the need for technical know-how. |
| Built-in feature | There's no need for third-party apps or services, making it a secure and trustworthy method. |
| 30-day window | Offers ample time to realize a mistake and recover photos, reducing the risk of permanent loss. |
Cons
| Drawback | Explanation |
| --- | --- |
| Time-restricted | Photos are only available for recovery for 30 days, after which they are gone forever. |
| Limited to device | Recovery is only possible if the photos were deleted from the device and not from iCloud or other cloud services. |
| Storage space | Recovering a large number of photos can quickly eat up your iPhone's storage space. |
Video About Recovering Pictures
Additional Information
When it comes to recovering deleted photos on your iPhone, timing is everything. The 30-day grace period is a lifesaver, but it's important to act within this timeframe. If you're past the 30 days, don't lose hope just yet. There might be other solutions such as checking your iCloud account or using third-party data recovery tools.
It's also worth mentioning that with iOS 17, the quality and resolution of your recovered photos remain intact. You won't have to worry about receiving a pixelated shadow of your former picture. Plus, the process is the same whether you're recovering one photo or a hundred.
Remember to regularly back up your photos to iCloud or other cloud services. This way, even if you miss the 30-day window, you'll have a backup plan. The prompt keyword to keep in mind for recovering deleted photos from your iPhone with iOS 17 is simplicity and peace of mind.
Summary
Open the Photos app on your iPhone.
Tap on the 'Albums' tab at the bottom of the screen.
Scroll down and open the 'Recently Deleted' album.
Select the photos you want to recover.
Tap on 'Recover' and confirm your action.
Frequently Asked Questions
What if I don't see the 'Recently Deleted' album?
If you can't find the 'Recently Deleted' album, it's possible that you have no recently deleted photos or that the 30-day period has expired.
Can I recover photos deleted from iCloud?
This tutorial is for photos deleted from your iPhone. For iCloud, you'll need to check the iCloud website and look for a similar recently deleted folder.
Is there a way to recover photos after 30 days?
Once the 30-day period is up, your chances are slim, but you can check if you had any backups in iCloud or on your computer.
Does this recovery process work for videos as well?
Yes, it works the same way for videos in the 'Recently Deleted' album.
Can I recover photos that were permanently deleted?
Unfortunately, once the 30-day period lapses and the photos are permanently deleted, they can't be recovered through the Photos app.
Conclusion
In conclusion, recovering deleted photos from your iPhone with iOS 17 is a straightforward process that can save you a lot of heartaches. Whether you accidentally swiped to delete or you've had a change of heart, knowing how to navigate this feature is a valuable skill for any iPhone user.
Remember, acting quickly is key, as you have a 30-day safety net to retrieve your lost memories. With the steps outlined in this article, you're now equipped to tackle photo recovery like a pro. So, breathe a sigh of relief, and go ahead, give your deleted photos a second shot at life!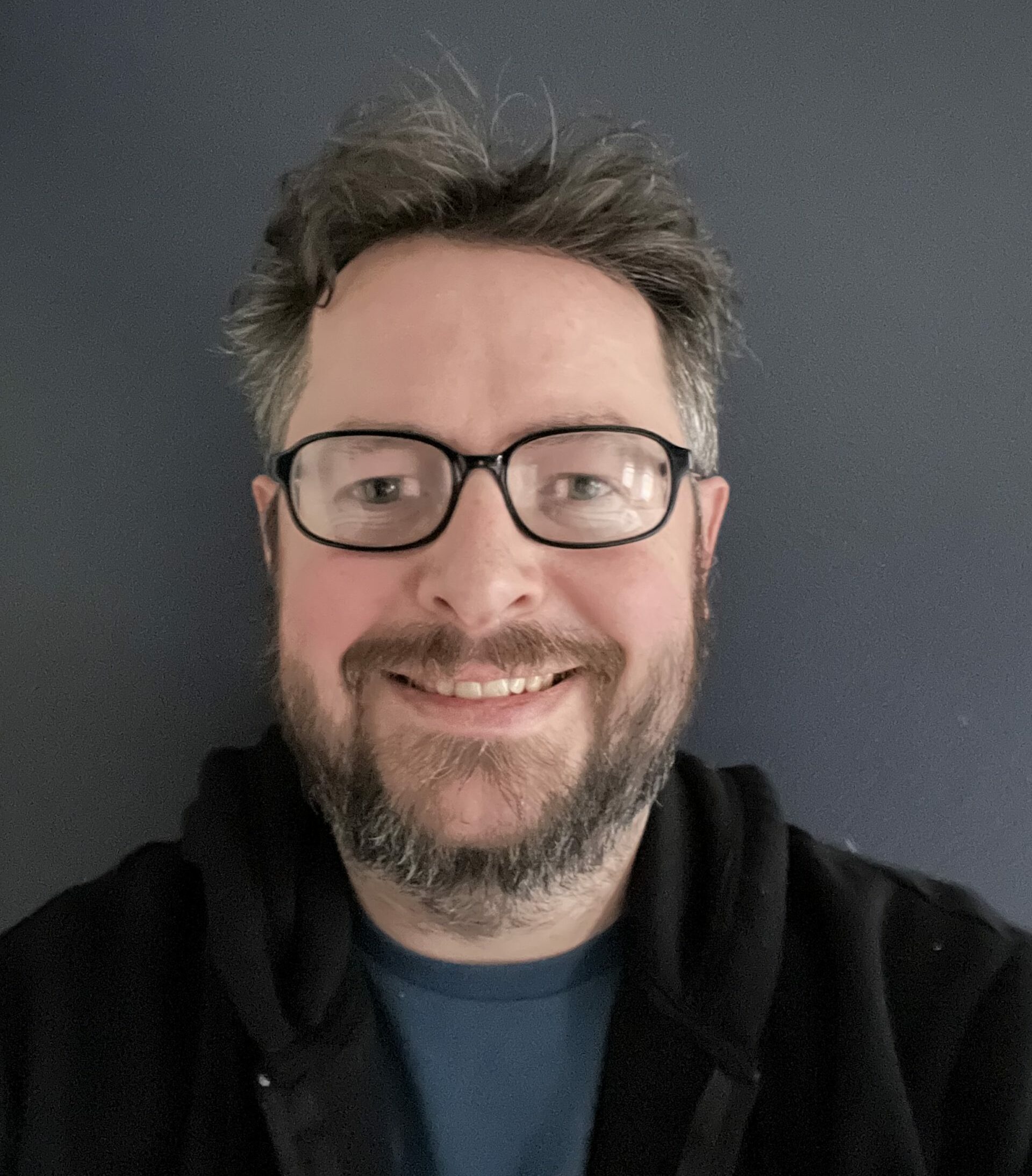 Matthew Burleigh has been writing tech tutorials since 2008. His writing has appeared on dozens of different websites and been read over 50 million times.
After receiving his Bachelor's and Master's degrees in Computer Science he spent several years working in IT management for small businesses. However, he now works full time writing content online and creating websites.
His main writing topics include iPhones, Microsoft Office, Google Apps, Android, and Photoshop, but he has also written about many other tech topics as well.