Your iPhone keeps a history of the requests that you have made to Siri on your iPhone.
It uses this information to improve the results that Siri gives you, plus Siri can learn to better understand you the more that you use the feature.
But if Siri is either not doing a good job understanding you, or the results aren't great, then you might consider deleting the existing history and starting over.
Our tutorial continues below with additional information about how to delete Siri history on iPhone 13.
How to Clear Your iPhone Siri History
Open Settings.
Select Siri & Search.
Choose Siri & Dictation History.
Touch Delete Siri & Dictation History.
Tap Delete Siri & Dictation History again to confirm.
Our guide continues below with additional information about how to delete Siri history on iPhone 13, including pictures of these steps.
If you use the Siri feature on your iPhone 13, then your Iphone is storing information about the commands that you have given.
This not only helps to improve your Siri experience on your phone but samples of this data are also sent to Apple to help it in improving the Siri experience for everyone.
Over time your phone may accumulate a lot of history and data as you use Siri, and you might decide to get rid of it because Siri either isn't working well or you have privacy concerns about the data and would like to remove it.
Regardless of your reasoning, you can continue to the next section and see how you can eliminate that Siri history from your device.
Related: Our article on clearing iPhone cookies can show you how to delete your browsing history for several of the popular iPhone Web browsers.
How to Get Rid of the History of Siri on an iPhone
The steps in this article were performed on an iPhone 13 in the iOS 16 operating system.
Step 1: Find and open the Settings app on your iPhone.
Step 2: Scroll down and choose the Siri & Search option from the menu.
Step 3: Select Siri & Dictation History at the bottom of the menu.
Step 4; Tap the Delete Siri & Dictation History option at the top of the screen.
Note under this button that deleting your Siri interactions will remove the data associated with your iPhone from Apple's servers.
If data has already been sampled to help improve Siri and is no longer associated with your iPhone, then it won't be deleted.
Step 5: Touch Delete Siri & Dictation History again at the bottom of the screen to confirm.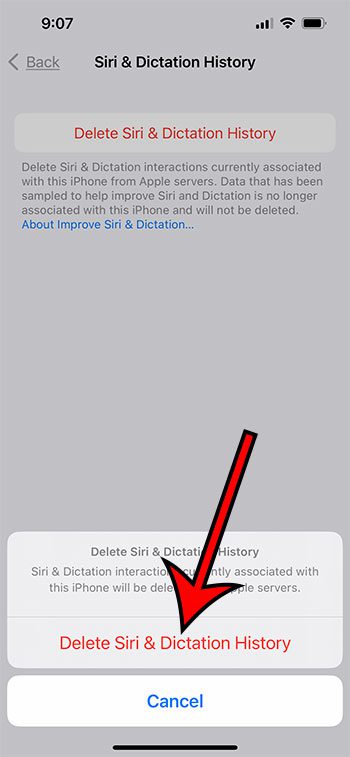 Now that you know how to delete Siri history on iPhone 13, you can do this periodically if it seems like you are having trouble getting Siri to work properly or if you simply like to delete that history every now and then.
More Information About Clearing Siri History
If you have other Apple devices and use Siri there as well, then you might want to know how to delete their history as well. You can do so with the following steps:
Navigate to the Settings app on your iPad or iPod touch, then navigate to Siri & Search, and then hit the Siri & Dictation History option. After that, select Delete Siri & Dictation History from the menu.
Navigate to the Settings app on your Apple Watch, press the Siri icon, and then tap the Siri & Dictation History option. After that, select the Delete Siri & Dictation History option.
Navigate to the Settings menu on your Apple TV, select General, and then select Siri History. After that, select Delete Siri & Dictation History from the menu.
To access Siri History on a HomePod, open the Home app and navigate to the HomePod settings menu. After that, select the Delete Siri History option.
Siri may be accessed through the System Preferences menu on your Mac. After that, select Delete Siri & Dictation History from the menu.
Note that your iPhone has a random identifier, and removing your Siri history will only delete the requests that are associated with that identifier.
Up to six months' worth of your request history will be linked to the random identification.
Your request history is separated from the random identifier after a period of six months, although it may be stored for a maximum of two years in order to assist Apple in the development and improvement of Siri, Dictation, and other language processing functions such as Voice Control.
The relatively tiny number of suggestions that have been considered may be archived for longer than two years, albeit without the random identification, in order to make Siri better over time.
On an iPhone, Siri will save history in order to enhance the level of customization and capability that the virtual assistant provides.
Siri is able to better comprehend and anticipate the demands of the user as a result of keeping track of user interactions and requests, which in turn leads to responses that are more accurate and efficient.
In addition, storing history makes it possible to quickly retrieve requests and information that have been made in the past for the purpose of future reference.
Using Siri on an iPhone
Apple's iPhone operating system includes a virtual assistant called Siri that can be used to carry out a variety of activities using voice commands.
Siri is intended to be a wise and useful assistant that can help you with a variety of chores, such as making phone calls and sending messages, as well as creating reminders and responding to inquiries.
Simply hold down the home button while using your iPhone to activate Siri, or just say "Hey Siri" to start Siri.
Once active, Siri will reply to your voice requests by providing the information or taking the desired action. You can ask Siri, for instance, to contact a number, send a text message, set a reminder, or run a web search.
Setting reminders is one of Siri's most practical capabilities.
When you need to remember to finish a task or pick up something on the way home, this might be extremely useful.
Siri will set a reminder for you that will appear at the specified time after you simply tell it what you need to remember. You can even set the reminder's time and place, so you'll only be reminded when you enter or depart a particular area.
On your iPhone, Siri may be used to conduct searches and retrieve information.
For instance, you can ask Siri to dig up information on a particular subject or to locate a nearby restaurant or movie theater.
Siri will provide you with the information you require, whether it be a list of close-by restaurants or a thorough article on a specific topic.
The integration of Siri with other iPhone apps is another useful feature.
You may use Siri, for instance, to send messages through the built-in Messages app or to manage the playback of your music through the Apple Music app.
Siri can also be used to open apps, change settings, and carry out other actions within the iPhone operating system.
Siri's capacity to gradually learn and adjust to your individual preferences and routines is one of its biggest advantages.
Siri will learn your speech patterns, vocabulary, and the kinds of tasks you need assistance with as you use it. Through the utilization of this data, Siri's responses are made more accurate over time, making the virtual assistant even more beneficial.
To sum up, Siri is a strong and useful virtual assistant that may make your life simpler and more effective by enabling you to carry out tasks, access information, and manage your iPhone using voice commands. With Siri, you can accomplish more in less time, whether you're making calls, sending messages, creating reminders, or looking up information.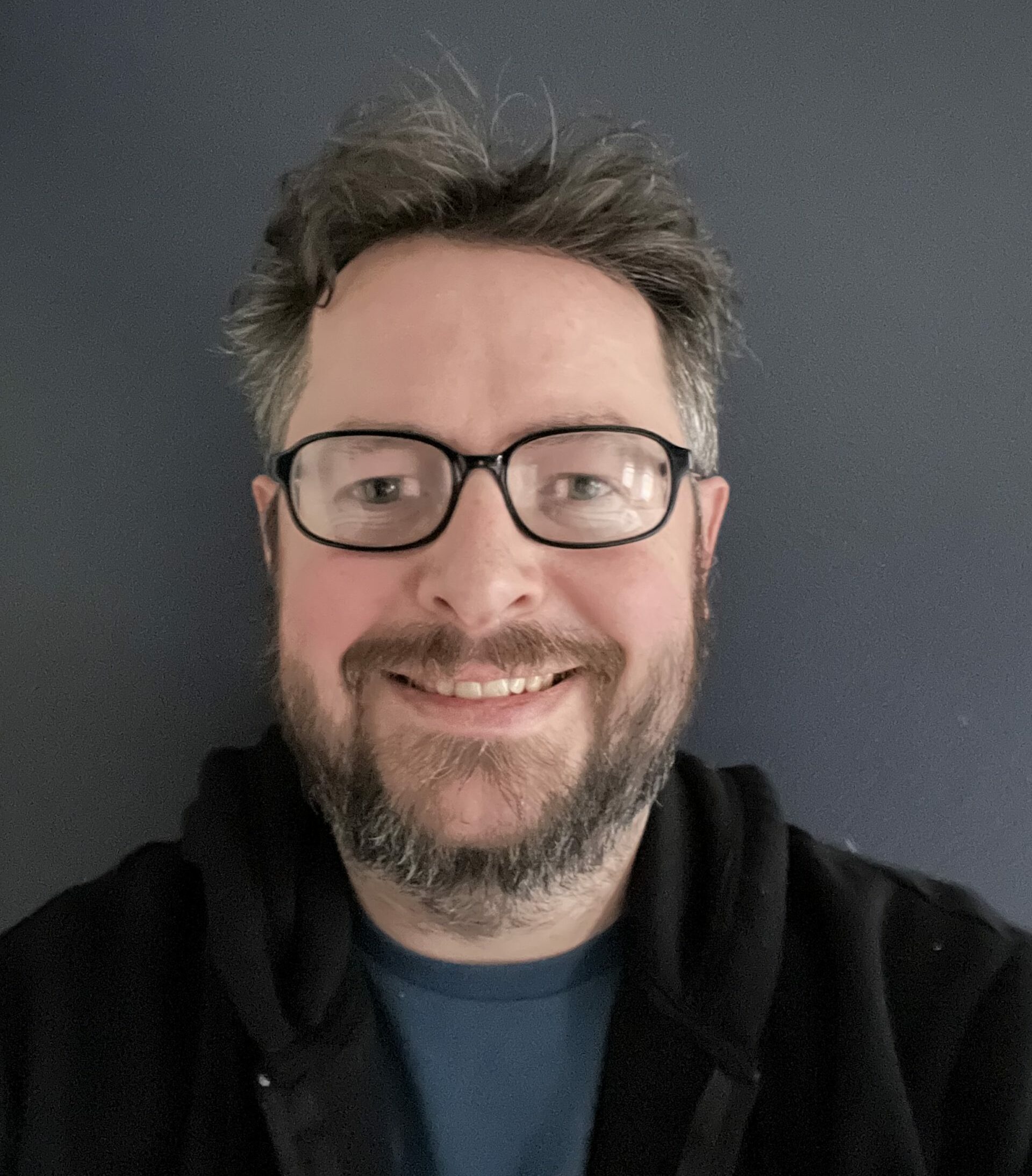 Matthew Burleigh has been writing tech tutorials since 2008. His writing has appeared on dozens of different websites and been read over 50 million times.
After receiving his Bachelor's and Master's degrees in Computer Science he spent several years working in IT management for small businesses. However, he now works full time writing content online and creating websites.
His main writing topics include iPhones, Microsoft Office, Google Apps, Android, and Photoshop, but he has also written about many other tech topics as well.