If you're wondering how to change the Bluetooth name on your iPhone, it's simple. Start by opening the 'Settings' app. Then, navigate to 'General' and select 'About'. Here, you'll find the 'Name' option. Tap on 'Name', replace the existing iPhone name with your preferred new one, and finally, tap 'Done'. This new name will now be your iPhone's Bluetooth name.
Our guide continues below with additional information about how to change Bluetooth name on iPhone devices, including pictures of these steps. You can also visit Mobile Phone Tips and Tricks for more iPhone guides.
You can also check out our video on YouTube about how to change Bluetooth name on iPhone for more on this topic.
Related Topic: If you're upgrading your iPhone to a newer model and trading in your old one, then follow our factory reset iPhone 11 steps.
How to Change the iPhone Bluetooth Name (Guide with Pictures)
The steps in this article were performed on an iPhone 6 Plus, in iOS 8.4.
These same steps will work for other iPhone models that are running iOS 7 or higher. It also works on much newer Apple devices including an iPad or iPod Touch, so you will also be able to change the name on an iPhone 11 in iOS versions like iOS 14.
Related: How to Change iPhone Name (iOS 17)
The setting that we will be changing in this tutorial is the device name. This is used for other purposes besides Bluetooth device identification, such as identifying your device on a Wi-Fi network.
These how to change Bluetooth name on iPhone steps will show you how to give your phone a new name so that other devices and networks see the new name when connecting to your device.
Step 1: Tap the Settings icon.
Open the Settings app.
Step 2: Select the General option.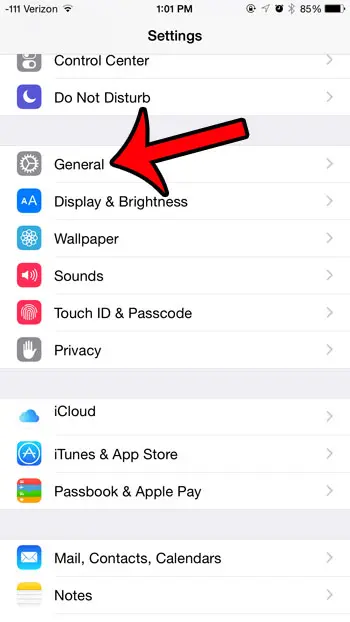 Scroll down and select General.
Step 3: Tap the About button at the top of the screen.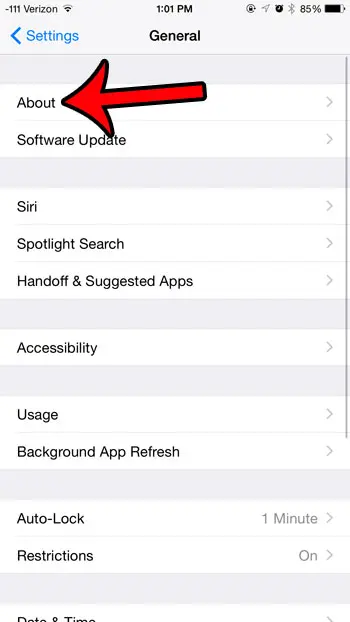 Open the About menu.
Step 4: Tap the Name button at the top of the screen.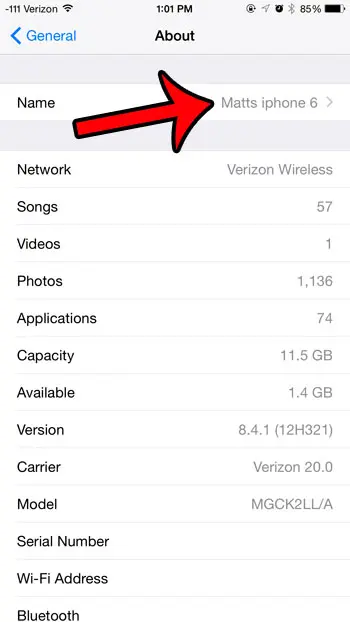 Touch Name at the top.
This is the current Bluetooth name for the device.
Step 5: Tap the small x button to the right of the current device name to delete it, then enter in the name that you want to use as your iPhone's Bluetooth name. Press the blue Done button at the bottom-right corner of the keyboard when you have finished entering the new name.
Delete the old name, enter a new one, then tap Done.
Once you change Bluetooth information, it should update immediately for the devices that can see that data.
Deal of the Day
Sale
Apple AirPods (2nd Generation) Wireless Ear Buds, Bluetooth Headphones with Lightning Charging Case Included, Over 24 Hours of Battery Life, Effortless Setup for iPhone
HIGH-QUALITY SOUND — Powered by the Apple H1 headphone chip, AirPods (2nd generation) deliver rich, vivid sound.
EFFORTLESS SETUP — After a simple one-tap setup, AirPods are automatically on and always connected. They sense when they're in your ears and pause when you take them out. And sound seamlessly switches between your iPhone, Apple Watch, Mac, iPad, and Apple TV.
Last update on 2023-11-30 / Affiliate links / Images from Amazon Product Advertising API | As an Amazon Associate, I earn from qualifying purchases.
Now that you know how to change your iPhone name, you will be able to perform this action whenever you need to update the name that other Bluetooth devices see when you are trying to connect them.
If you use Bluetooth with your iPhone a lot, then you may eventually encounter a situation where you want to connect more than one Bluetooth device to the iPhone at the same time. Click here to learn more about multi-device Bluetooth connections on your iPhone.
More Information on How to Change the Bluetooth Name that Another Bluetooth Device Will See for Your iPhone
Not every Bluetooth device has the means to display the name of the device to which it is pairing. In fact, in many cases, you may only see this information when you connect to other Bluetooth devices like another iPhone, iPad, computer, or smartphone.
As indicated previously, the default name of your iPhone is going to be your first name, followed by the word "iPhone."
If you have multiple iPhones, then they are probably going to all have the same name. This can cause problems, as that default name is also used to identify a device on your wireless network.
Multiple devices with the same name can cause confusion for a network administrator, especially if they need to manage IP addresses or are performing certain security functions.
One of the more common Bluetooth devices you can connect to an iPhone are AirPods. Read here on how to turn off AirPod notifications on your iPhone.
You can change the name of some other compatible devices through the Bluetooth menu, such as Airpods. You can do this by opening the Settings app, choosing Bluetooth, selecting your Airpods, then tapping Name and entering a new one.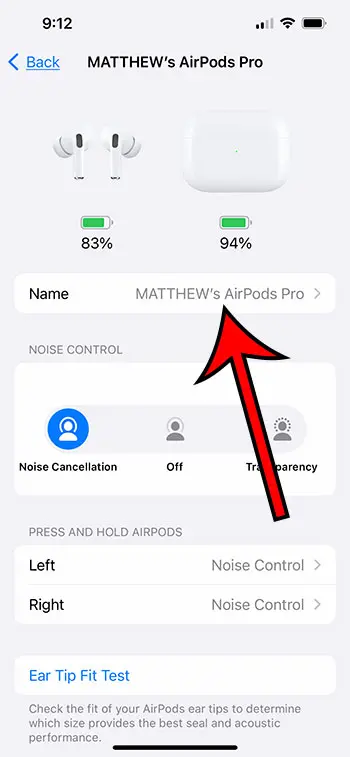 Unfortunately, you cannot change the Bluetooth name for every device that you connect to your iPhone. This can be frustrating if you are trying to do something like transfer files, especially for a device that has a name that isn't very descriptive.
You can forget Bluetooth devices on your iPhone if you open Settings, choose the Bluetooth option, tap the "i" next to one of the devices, then select the Forget this Device option. Note that you will need to repair that device again in the future if you want to use it with your Apple iPhone.
You can use these same steps to give a new name to an iPad as well. If you have more than one iPad as well then you are going to run into many of the same issues that you encounter when you need to rename an iPhone.
So when you go to Settings > General > About > Name and tap inside the Name field to enter a new one, be sure to give it a new name that makes it easier to identify on a connected device.
Related: Guide to Changing Firestick Name from an iPhone
Frequently Asked Questions About How to Change the Name of a Bluetooth Device on Your iPhone
How do I change my Bluetooth pairing name?
If you are trying to pair a Bluetooth device with your iPhone and you are having difficulty because your iPhone's name is something like "iPhone" or "123 iPhone" then changing the name will make it much easier to find the right device.
You can change your iPhone Bluetooth pairing name by going to Settings > General > About > tap Name > then delete the old name and enter a new one.
Note that when you change Bluetooth name information, it will also update the name for the Personal Hotspot as well.
How do I change the name of my Bluetooth device on my iPhone?
Many of the devices that you pair with your iPhone won't give you the option of changing their name.
However, if one of those devices does let you do it then you will be able to change a Bluetooth device's name on your iPhone with these steps:
1. Open Settings.
2. Select Bluetooth.
3. Touch the i to the right of the device.
4. Tap the Name button.
5. Delete the current name and enter a new one.
Again, many Bluetooth devices won't let you do this. I can change the name of my AirPods, for example, but I can't change the name of my car, exercise equipment, and some other Bluetooth devices that are currently listed under "My Devices."
If I change my iPhone Bluetooth name will it update the name on my router?
Since the Bluetooth name that you are changing with the steps above is also the device name, then it will typically update for other non-Bluetooth device locations where that information is shared.
If you have a home or work network where you can view the names of connected devices, then it will usually update there when you update the Bluetooth name as well.
How can I view other Bluetooth device names?
If you want to see the names of other devices that are nearby and in pairing mode, or if you want to see all your devices that have connected previously, then you can go to Settings > Bluetooth.
This devices list will show connected devices, devices your iPhone connects to, and even devices that can be connected to your iPhone.
If you tap the information icon next to the discoverable name of a device, you will see the options that are available for that particular device.
How can I change iPhone Bluetooth name in iOS 16?
The method for changing a Bluetooth iPhone name has remained the same for many versions of iOS, including iOS 16.
So if you need to know how to change your Bluetooth name on an iPhone 13, or how to change Bluetooth name on an iPhone 12 that is running the newest version of iOS, the steps above will still work.
Just go to Settings > General > About > Name > then delete the current name and add a new one.
Can I change my personal hotspot name on an iPhone?
Yes, this setting can be updated the same way that you would change your Bluetooth name on iPhone.
Simply open the Settings app, tap the General option, choose About at the top of the screen, then tap the Name option and enter the new one.
So once you have followed our how to change Bluetooth name on iPhone steps, you will also know how to change your Personal Hotspot name, too!
You can update the password for the personal hotspot by going to Settings > Personal Hotspot > then tapping Wi-Fi Password and entering a new one.
How to Change iPhone 13 Bluetooth Name Infographic
Video for How to Change an iPhone's Bluetooth Name
Summary – How to Update Your iPhone's Bluetooth Name
Open Settings.
Choose General.
Tap About.
Touch the Name button.
Enter the new name and tap Done.
Conclusion
There are several components involved when you are pairing Bluetooth devices with one another.
One of these components is the name of either of those devices.
If you are attempting to connect something to your iPhone or if you are trying to connect your iPhone to something, then you might notice that the Bluetooth name on your iPhone is wrong or unhelpful.
When you connect a Bluetooth device to another one, then both of those Bluetooth devices can have a name displayed on the other device.
This helps to ensure that you are connecting to the correct device. But you may want to know how to change the Bluetooth name on an iPhone if you find the current name to be too vague, or entirely incorrect.
Your iPhone includes Bluetooth technology and can identify itself to other Bluetooth devices. Your iPhone will use its existing device name to identify itself via Bluetooth.
The iPhone typically sets the device name as your name, so an example of a common iPhone Bluetooth name might be "Matt's iPhone."
But if you have multiple iPhones, or if there is more than one person with the same first name on your network, then it could become difficult to identify a specific device.
Fortunately, the iPhone device name can be changed rather easily, and it can be done directly from the device itself. You can follow our guide below to find this setting and change your iPhone's Bluetooth name to your preferred choice.
Our guide on why is the time blue on my iPhone can help you to figure out why you occasionally see blue shading around the clock on your device.
Hopefully, our iPhone tutorial has provided you with the information that you need to give your phone a new name.
This information is also helpful for the device's Personal Hotspot feature, as well as identifying the backup files that you have for your iPhones in iCloud.
Note that you can come back to this menu as often as you want to provide a new name for your device if you discover that the new one is not ideal for a particular situation.
Our iMessage sent as text message guide can provide you with some troubleshooting steps if you discover that your your messages are being sent as green messages instead of blue.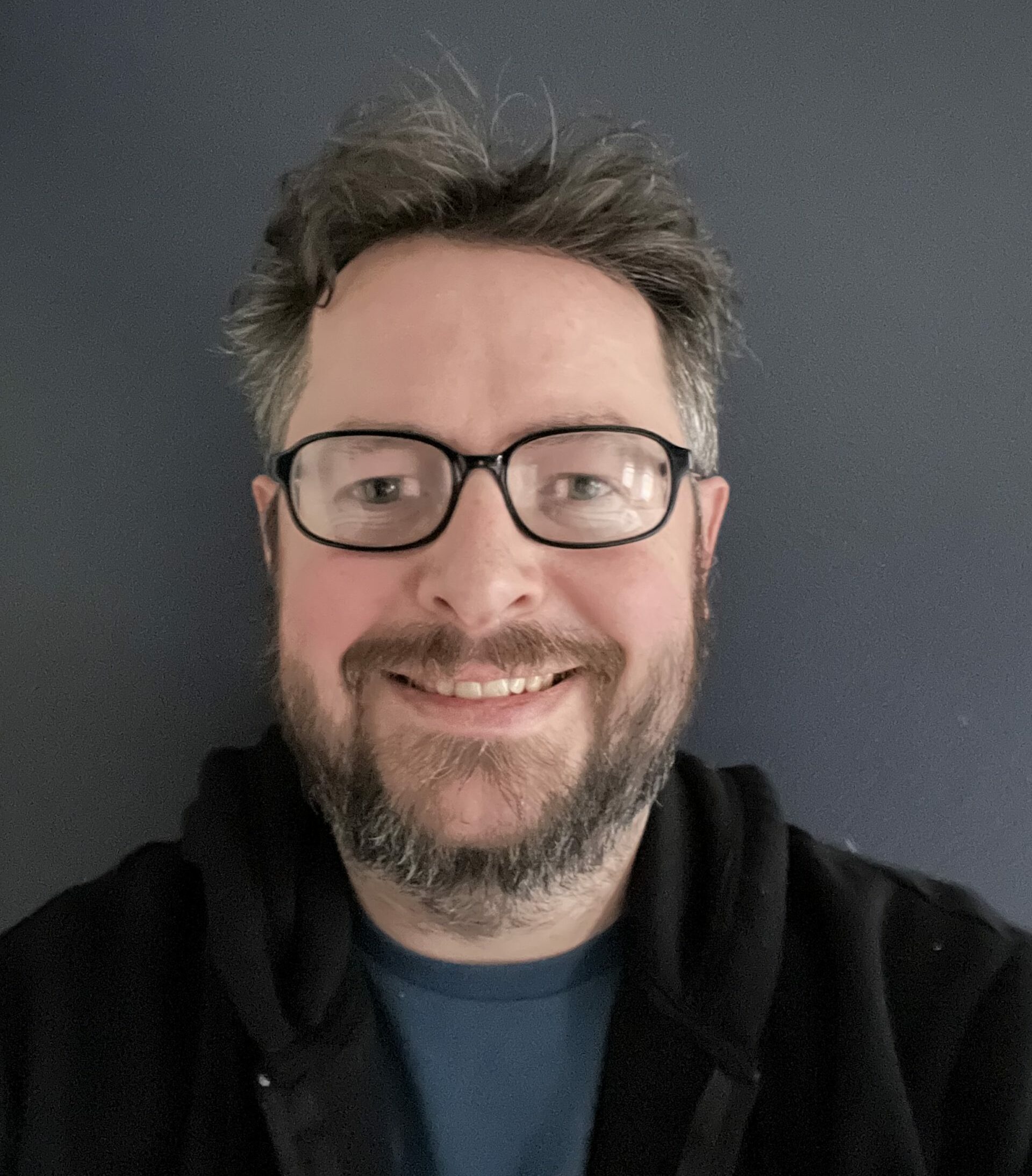 Matthew Burleigh has been writing tech tutorials since 2008. His writing has appeared on dozens of different websites and been read over 50 million times.
After receiving his Bachelor's and Master's degrees in Computer Science he spent several years working in IT management for small businesses. However, he now works full time writing content online and creating websites.
His main writing topics include iPhones, Microsoft Office, Google Apps, Android, and Photoshop, but he has also written about many other tech topics as well.