You can see a lot of information in the standard editing screen in Google Slides, and you may even feel that it's good enough for giving your presentation. But you may want to know how to view your presentation in Google Slides in Full screen if you want to hide the Google Slides interface.
You can spend a lot of time creating a presentation in Google Slides. Getting the right look, the right information, and the correct slide order can be a daunting task but, eventually, you will end up with a final presentation that you are excited to give.
But after all of that work in creating your document, you might be wondering how you actually go about starting the presentation for others to view it. Fortunately it only requires a couple of steps in Google Slides, and there are actually a handful of different ways that you can begin the presentation.
How to Present a Google Slides Full Screen Presentation
Open the slideshow.
Click View.
Select Present.
Our article continues below with additional information on giving a Google Slides presentation, including pictures of these steps.
If you also use the Google Slides mobile application, then check out our article on how to see speaker notes on Google Slides app.
How to Present a Slideshow in Google Slides (Guide with Pictures)
The steps in this article were performed in Google Chrome, but will work in other desktop and laptop Web browsers like Firefox and Edge. Note that entering presentation mode using these steps will cause the presentation to take over the entire screen. You can exit presentation mode by pressing the Esc key on your keyboard.
Step 1: Go to your Google Drive at https://drive.google.com/drive/my-drive and open the presentation that you want to present.
Step 2: Click the View tab at the top of the window.
Step 3: Select the Present option.
Your presentation should then enter full-screen mode.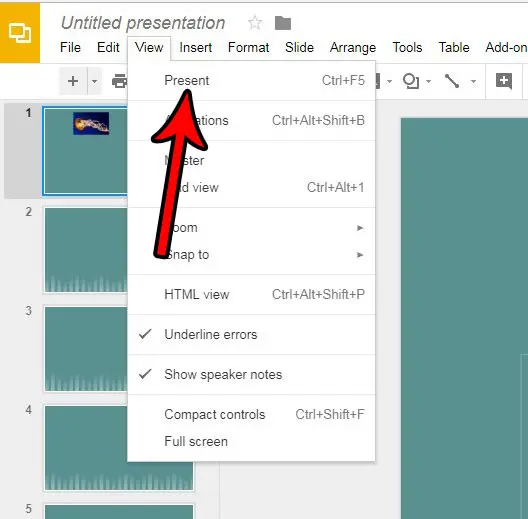 Note that there is a menu that appears at the bottom of the screen that provides you with some options to control the presentation. As mentioned earlier you can press Esc on your keyboard to exit this view.
You can also start the presentation by pressing Ctrl + F5 on your keyboard, or by clicking the Present button at the top-right corner of the window.
Do you need to print your presentation, too, but you don't want to waste a lot of paper? Find out how to print multiple slides on one page and make hard copies of your presentation a little easier to manage.
How to View Google Slides Full Screen
Open the slideshow.
Click Present.
Choose the desired mode.
This is going to put your slideshow into the mode that you would want to use when presenting it, allowing you to become familiar with how things will work in front of an audience.
How to Present Your Slideshow More Quickly in Google Slides (Keyboard Shortcut)
If you are trying to become more efficient in Google Slides, then keyboard shortcuts can be very helpful.
The shortcut for starting the "Present" mode is Ctrl + F5.
This will start it automatically. You can also use that same shortcut when you want to exit the presentation mode.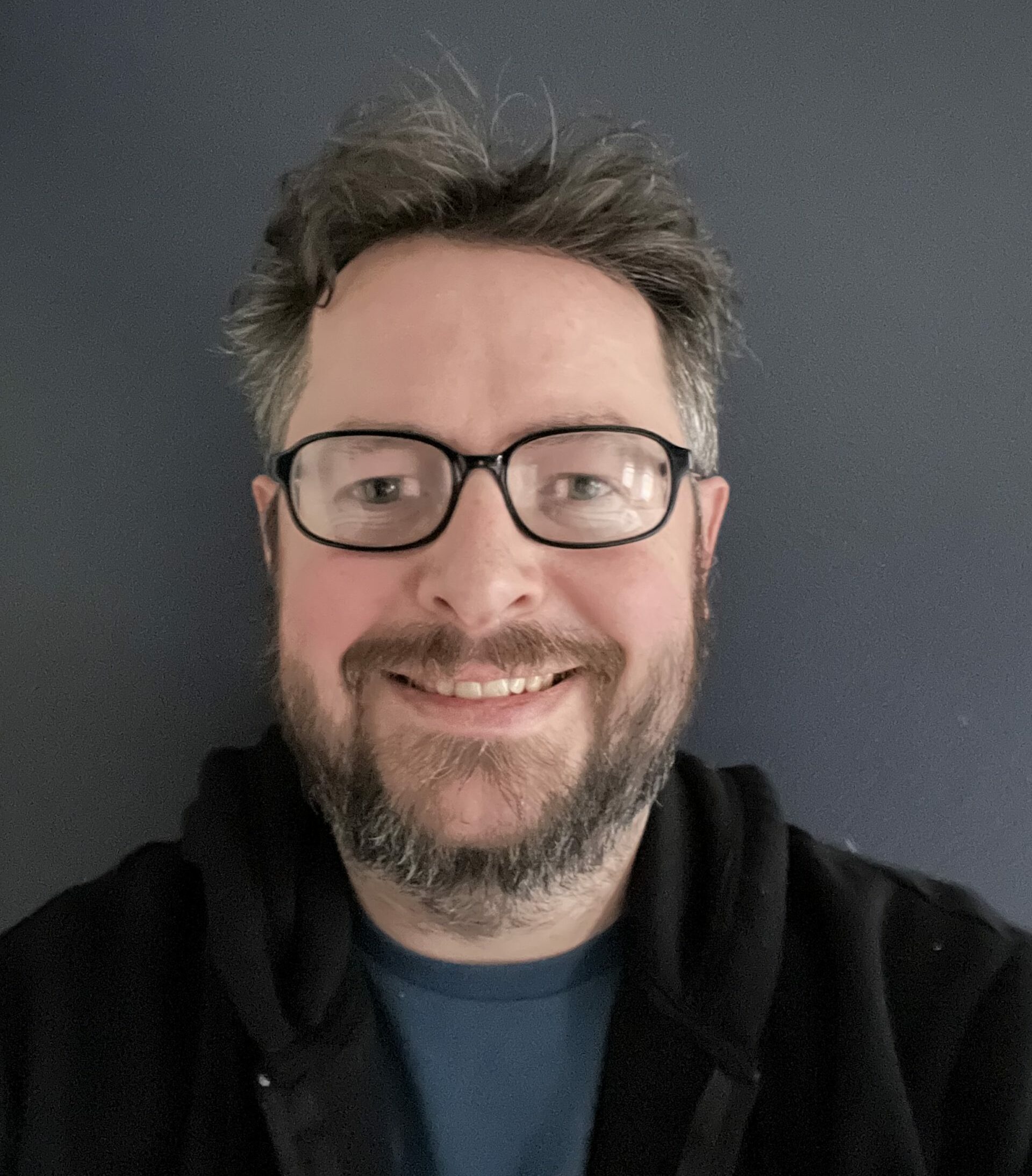 Matthew Burleigh has been writing tech tutorials since 2008. His writing has appeared on dozens of different websites and been read over 50 million times.
After receiving his Bachelor's and Master's degrees in Computer Science he spent several years working in IT management for small businesses. However, he now works full time writing content online and creating websites.
His main writing topics include iPhones, Microsoft Office, Google Apps, Android, and Photoshop, but he has also written about many other tech topics as well.