When you need to make the cells in your spreadsheet taller you will find that the data in those cells is displayed at the bottom of the cells.
This isn't obvious when you are using the default cell heights, but it may not look the way that you want it to.
Luckily you are able to adjust the vertical alignment settings for the cells in your Google spreadsheet, which we will show you how to do in our tutorial below.
How to Vertically Align a Cell in a Google Spreadsheet
Open your spreadsheet.
Select the cells to edit.
Click the Vertical align button in the toolbar.
Choose the Middle option.
Our guide continues below with additional information on how to vertically center cell data in Google Sheets, including pictures of these steps.
You can read our Word center vertically tutorial if you have a document in Microsoft Word where you need to put content in the vertical center of a page instead of at the top.
The default vertical alignment for data in Google Sheets cells will place that data on the bottom of the cell.
But the structure of your spreadsheet might dictate that the data be placed in the center of the cell, so you may find yourself looking for a way to vertically center data in the cells of your spreadsheet.
Fortunately, this is an option that is available in Google Sheets, so you will be able to change the vertical alignment of your cells.
You have the option to align it at the top, middle or bottom. Our guide below will show you where to find this setting.
You can also re-align data in a table in Google Docs. Our article on how to center text in a cell in Google Docs will show you the process.
How to Put Data in the Vertical Middle of the Cell in Google Sheets
The steps in this article were performed in Google Chrome, but should also work in other Web browsers as well.
When you complete this tutorial you will have a cell (or cells) of data where the cell content is centered vertically inside the cell.
Step 1: Go to your Google Drive at https://drive.google.com/drive/my-drive and open the spreadsheet containing the cell that you would like to center vertically.
Step 2: Select the cell(s) that you want to center.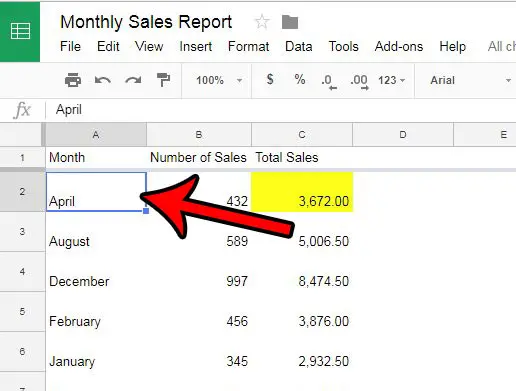 Step 3: Click the Vertical align button in the gray toolbar above the spreadsheet.
Step 4: Select the middle option to vertically align the selected cell data.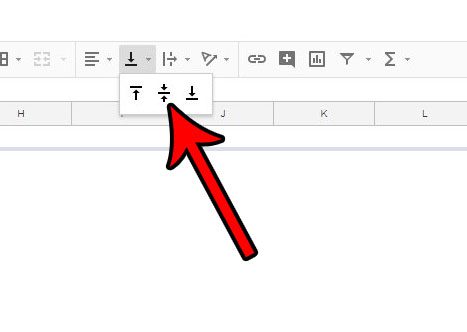 Note that you can also change the vertical alignment of a cell by clicking the Format tab at the top of the window, then Align, then selecting the desired vertical alignment.
Now that you know how to vertically center cell data in Google Sheets you will be able to adjust the positioning of content that you have added to your spreadsheet cells to make it easier for your audience to read it.
Does your spreadsheet have cell shading that you would either like to remove or change? Learn how to change cell shading, or fill color, in Google Sheets.
Continue Reading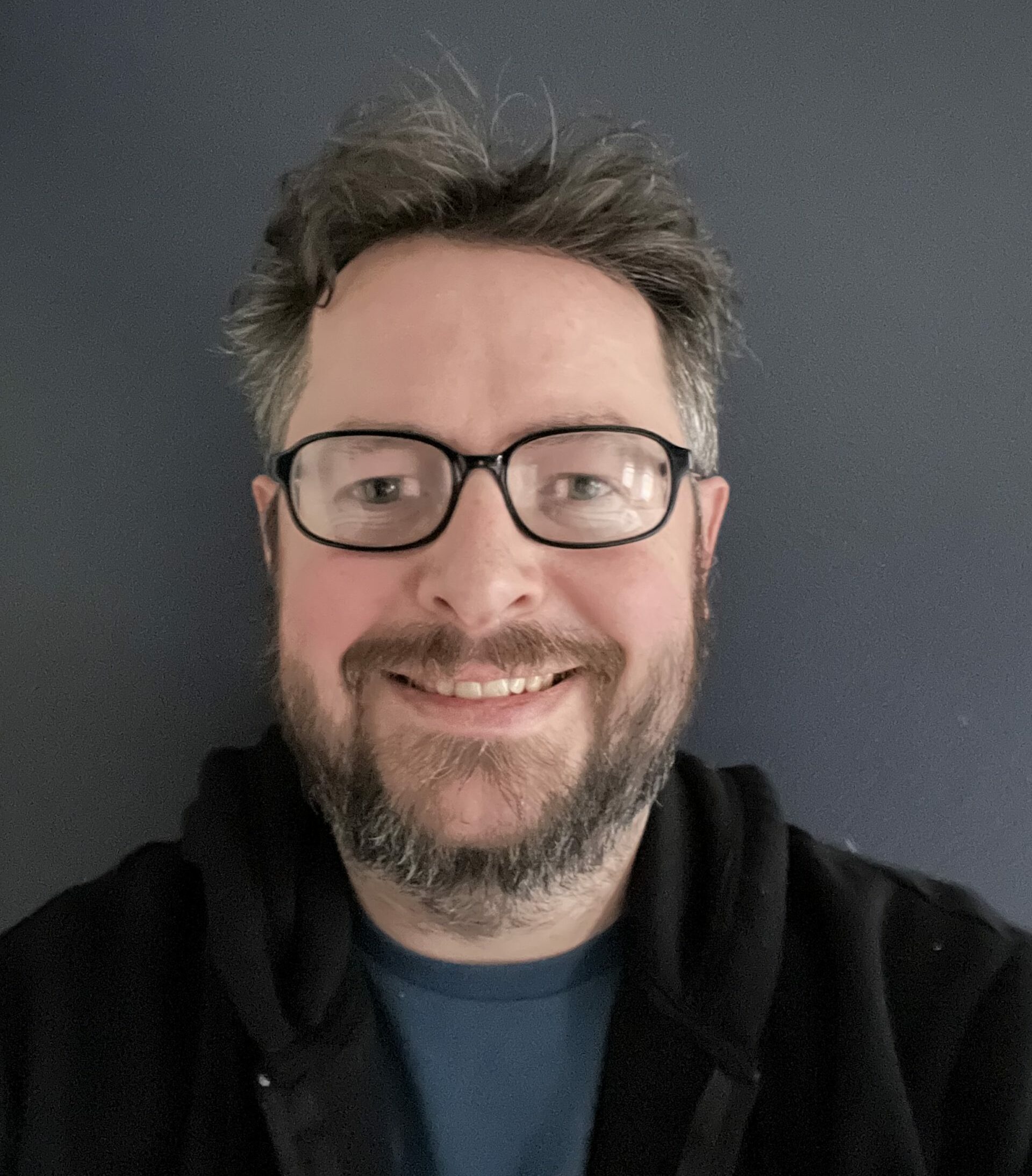 Matthew Burleigh has been writing tech tutorials since 2008. His writing has appeared on dozens of different websites and been read over 50 million times.
After receiving his Bachelor's and Master's degrees in Computer Science he spent several years working in IT management for small businesses. However, he now works full time writing content online and creating websites.
His main writing topics include iPhones, Microsoft Office, Google Apps, Android, and Photoshop, but he has also written about many other tech topics as well.