If you have ever explored the various settings for a document in Microsoft Word, then you probably encountered the Page Setup dialog box.
This menu contains a variety of different ways that you can customize the appearance of your document on the page. But there are some other options on the Print menu that can come in handy, especially if you want to print two or more pages on a single sheet of paper in Microsoft Word.
Everyone has different printing needs, and those needs are amplified when you are working with a program as flexible as Microsoft Word 2010.
You can print on a variety of different types of paper, you can format your documents to an impressive degree, and you can even do some light picture editing.
Fortunately, you have a lot of control over how your documents print as well, and you can even customize the number of pages of your document that print on a single sheet of paper. So continue reading below to learn how to print two pages of a document on one sheet of paper in Word 2010.
Microsoft Word – Print Two Pages on One Sheet
Open your document.
Click the File tab.
Select the Print tab.
Choose the 1 Page Per Sheet button, then select 2 Pages Per Sheet.
Click Print.
Our guide continues below with additional information on printing more than one page per sheet in Microsoft Word, including pictures of these steps.
How to Print Two Pages Per Sheet in Word 2010 (Guide with Pictures)
The tutorial below will teach you how to print two pages on one sheet for the document that you are currently editing. This will not change the default settings so that every document prints this way. So any future document that you print from Word 2010 will print with one page per sheet. This is important to keep in mind if you will be switching between one and two pages per sheet with any regularity.
If you do a lot of document printing, then a black and white laser printer can save you some money on toner over time. This Brother HL-2270DW is a great option, as it is inexpensive, wireless, and easy to set up. It also has some of the best user reviews of a printer that I have ever seen.
Step 1: Open the document that you need to print in Word 2010.
Step 2: Click the File tab at the top-left corner of the window.
Step 3: Click Print in the column at the left side of the window.
Step 4: Click the 1 Page Per Sheet button at the bottom of the window, then click the 2 Pages Per Sheet option to print multiple pages on a single sheet.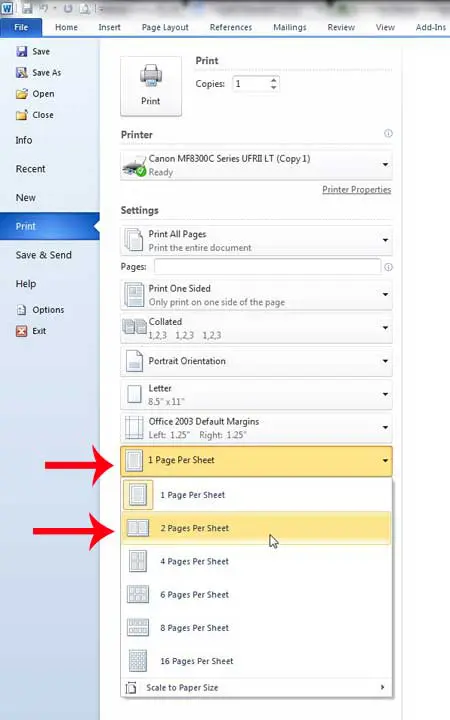 Step 5: Click the Print button at the center of the window.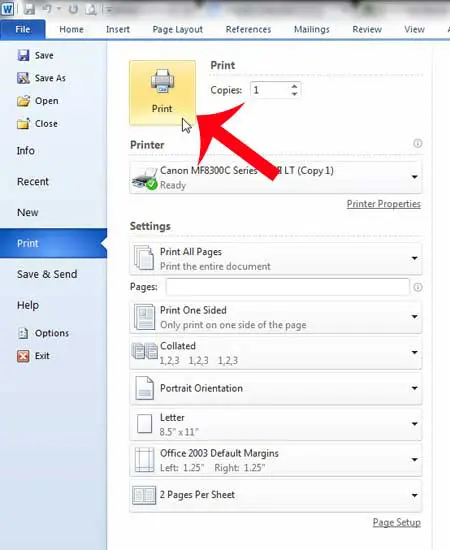 Now that you know how to print two pages on one sheet in Word 2010, you can use this printing option to start using less paper when you need hard copies of your documents.
Our article continues with additional discussion on printing multiple pages on a single sheet of paper in Microsoft Word 2010.
What Happens When Printing Multiple Pages of a Document on a Single Sheet of Paper in Word?
While a single page document, or a document where you have elected to print just one page per sheet of paper, can print correctly with little effort, you can encounter some problems in Word's print dialog window when you want to put multiple pages on the same sheet.
If you are only selecting two pages per sheet from the sheet drop-down list then you will have half-sized pages for the entire document.
But when you have a multi-page document and you are trying to turn it into a one-page document, then you might find that the text on your pages is becoming too small to read easily.
While you might not need to use a full-sized page on each sheet of paper, the solution to print multiple pages per sheet for a Word document is going to vary depending on the type of content in the document. You will likely need to try a couple of the different sheet per page options, or adjust the page size and see how Word displays your document.
After you make the change the print preview window should update almost immediately, allowing you to see how it will look before you select print and potentially waste a bunch of paper.
More Information on How to Print Two Pages on One Sheet – Word 2010
The steps above were performed in Microsoft Word 2010 but will work in most other versions of Microsoft Office as well, including Microsoft Word 2013, Word 2016, and Word for Office 365.
You can also use these steps if you are going to print to a PDF instead of an actual printer.
After you click the 1 Page Per Sheet button you probably noticed that there are options to print more than just two pages per sheet. In the image above, for Microsoft Word 2010, you have these options when printing multiple pages per sheet:
1 Page Per Sheet
2 Pages Per Sheet
4 Pages Per Sheet
6 Pages Per Sheet
8 Pages Per Sheet
16 Pages Per Sheet
The default paper size for your document is likely to be either Letter or A4, depending on where in the world you live. However, if you switch the paper size to something larger, like legal paper, you might be able to fit more pages on a sheet. You can find this setting by going to Page Layout > Size > then selecting the desired size. You may also want to consider switching the paper orientation, too, to see if that helps your printing situation.
Microsoft Word 2010 has some other uses, too. For example, you can use Word for some of the easiest label printing around.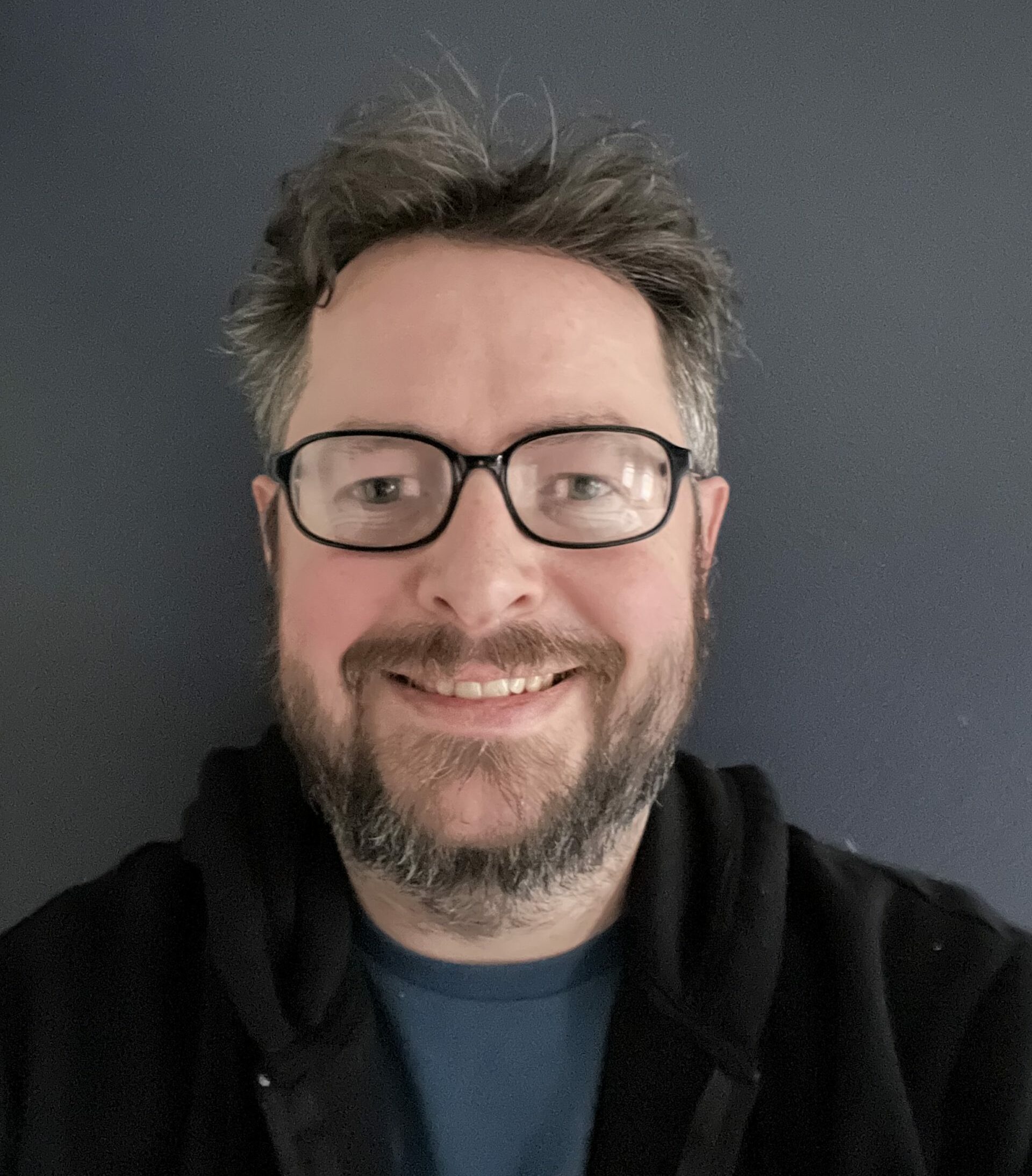 Matthew Burleigh has been writing tech tutorials since 2008. His writing has appeared on dozens of different websites and been read over 50 million times.
After receiving his Bachelor's and Master's degrees in Computer Science he spent several years working in IT management for small businesses. However, he now works full time writing content online and creating websites.
His main writing topics include iPhones, Microsoft Office, Google Apps, Android, and Photoshop, but he has also written about many other tech topics as well.