There are a number of ways to format your iPhone experience by adjusting some of the settings on the device.
Whether you want to make it easier to hear audio, touch the screen, or read what you are looking at, there are options to be found in places like the Accessibility menu or the Display & Brightness menu which can help you.
If you want to make your text bold on an iPhone then you can go to Settings > Display & Brightness > and enable the Bold Text option.
The iPhone screen can be difficult to read for some users, so thankfully there are some options that can improve readability on the device.
If you have an iPhone 6 Plus, then you can adjust the display zoom. But every iPhone model allows you to change the brightness of the display, or fiddle with some additional screen options that might make things better.
One setting that you may find of particular use is the ability to bold the text on the iPhone. The default setting for text on the iPhone is not bold, so you likely want to enable bold text feature settings on your device to make it easier to read.
You can choose to enable the bold text by following a few short steps, and the result can be very helpful without having a significant impact on how you use your iPhone.
How to Put Text in Bold on iPhone 6
Open Settings.
Choose Display & Brightness.
Tap the button next to Bold Text to turn it on.
Our guide continues below with additional information on bolding text on an iPhone, including pictures of these steps. We also provide a comparison or regular vs. bold text on the iPhone so you can see what it looks like.
Comparison of Regular Text and Bold Text on an iPhone 6
Below you can view how regular text looks in comparison to text that has had the bold format applied to it.
Note that the bold text is darker and contrasts more with the background than the standard, default text.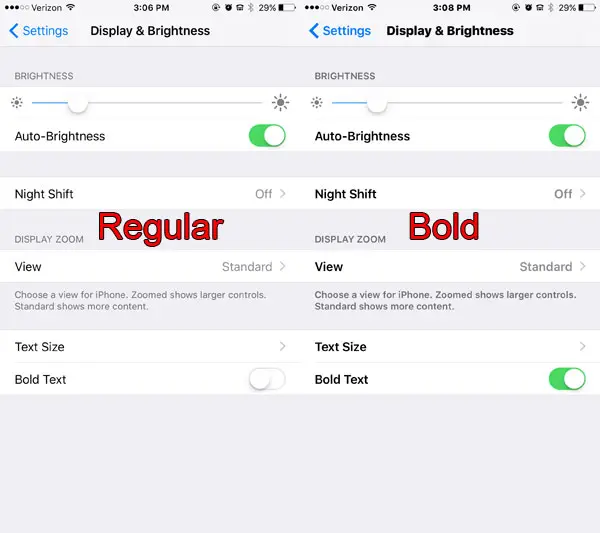 How to Turn Bold Text On or Off on an iPhone 6 in iOS 9 (Guide with Pictures)
The steps in this article were performed on an iPhone 6 Plus, in iOS 9.3. Note that choosing to turn on bold text will cause your iPhone to restart, and turning it off will cause it to restart again.
The bold text is applied in many different locations, including menus in the Settings app, in app icon descriptions, as well as in the address bar in the Safari browser.
You can follow these steps to toggle the bold text setting on or off.
Step 1: Tap the Settings icon.
Step 2: Select the Display & Brightness option.
Step 3: Tap the button to the right of Bold Text.
Step 4: Tap the red Continue button at the bottom of the screen to confirm that you wish to restart the device.
Note that on many newer iPhone models this restart is no longer necessary. The iPhone will simply toggle the text display to the bold option instantaneously.
Here you can see a side-by-side comparison of the default text against the bold text so that you can see what bold text looks like on an iPhone.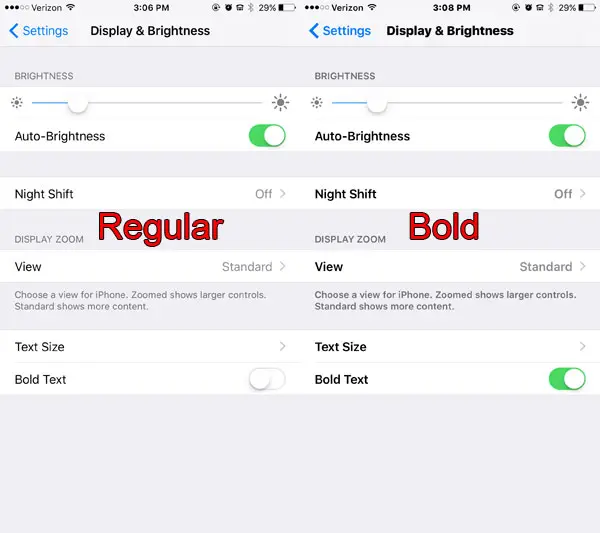 Our tutorial continues below with additional discussion on iPhone bold text.
More Information on How to Make Bold Text on an iPhone
One important thing to remember when you are changing the boldness of your iPhone text is that it only affects the text that you are seeing on your device.
This means that the text that you include in text messages or emails will look darker to you, on your iPhone, but it won't look any different to the person receiving your text message or email message.
There are some ways that you can format text on your iPhone when you are creating documents, but if you are trying to learn how to text in bold on an iPhone, then you are sadly out of luck. There isn't a way to format text messages or iMessages outside of including emojis or other media files.
If you want to apply bold formatting to some text, or bold written text, then you will need to open an app like Notes, then select the text that you want to bold, tap the right arrow on the horizontal black menu bar that appears, then touch the BIU button and choose "Bold."
Since many word processing applications like Microsoft Word and Google Docs have apps that can be installed on Apple devices, you are able to install and download those apps to your iOS device, then open the app and use the bold fonts there to format your text as needed.
If you use the bold text option on your iPhone and it doesn't make the screen easier to read, or you find that it will no longer scroll smoothly, then you can always disable bold text on your iPhone by returning to the Display & Brightness menu and turning the setting back off.
You will notice that if you select text in a text message or iMessage that the horizontal black bar also appears, but does not give an option to create bold, italic, or underlined text.
Have you noticed a yellow battery icon on your iPhone, and aren't sure where it is coming from? Find out more about the yellow battery icon and low power mode to see what it means, and learn how you can manually enable it or disable it.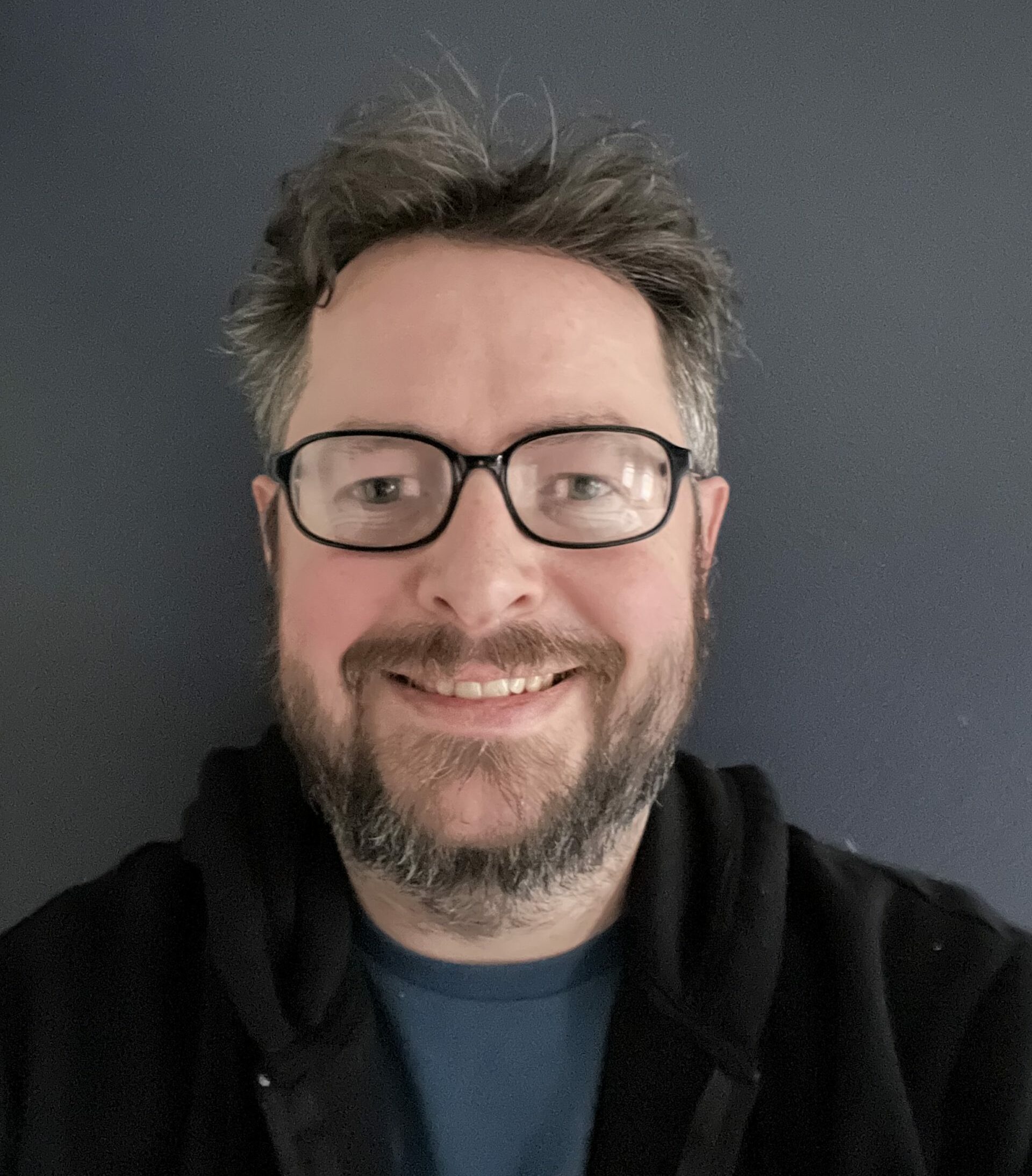 Matthew Burleigh has been writing tech tutorials since 2008. His writing has appeared on dozens of different websites and been read over 50 million times.
After receiving his Bachelor's and Master's degrees in Computer Science he spent several years working in IT management for small businesses. However, he now works full time writing content online and creating websites.
His main writing topics include iPhones, Microsoft Office, Google Apps, Android, and Photoshop, but he has also written about many other tech topics as well.